Great bit of work from Chris Hayes's show last night.
Hey @HawleyMO, just circling back to see if you saw the threats to school officials across the country. We made a montage for you in case you didn't. pic.twitter.com/6OSROrY3Bq

— All In with Chris Hayes (@allinwithchris) October 6, 2021
What makes Hawley even more pathetic is that back on January 4 — an auspicious date, come to think of it — Hawley had a meltdown over protesters outside his home. The Associated Press reported,
Protesters who gathered outside the Virginia home of Republican Sen. Josh Hawley Monday evening were peaceful and they left when police explained they were violating local picketing laws, police said Tuesday. The Missouri senator on Twitter accused the protesters of vandalism and threatening his family.

Officers were called to Hawley's home in Vienna, a Washington suburb, around 7:45 p.m. after someone reported that there were "people protesting in front of the house." Officers who responded to the scene found that the "people were peaceful," said Master Police Officer Juan Vazquez, a spokesman for the Town of Vienna Police Department.

The demonstrators said they went to Hawley's home because he said he would object when Congress convenes Wednesday to affirm Joe Biden's election victory.

Vazquez said the protesters had been violating several laws, including a Virginia code about picketing in front of a house, a town ordinance about making noise in front of a home and a littering code. But he said the officers explained the violations and "everyone just left."

"There were no issues, no arrests," he said. "We didn't think it was that big of a deal."

Hawley accused the group of threatening his family.

"Tonight while I was in Missouri, Antifa scumbags came to our place in DC and threatened my wife and newborn daughter, who can't travel," Hawley wrote on Twitter. "They screamed threats, vandalized, and tried to pound open our door. Let me be clear: My family & I will not be intimidated by leftwing violence."
In short, Hawley is a pathetic weenie in a tightly taylored weenie suit.
And, of course, we all remember this proud moment in the life of the Missouri freshman senator, just two days later: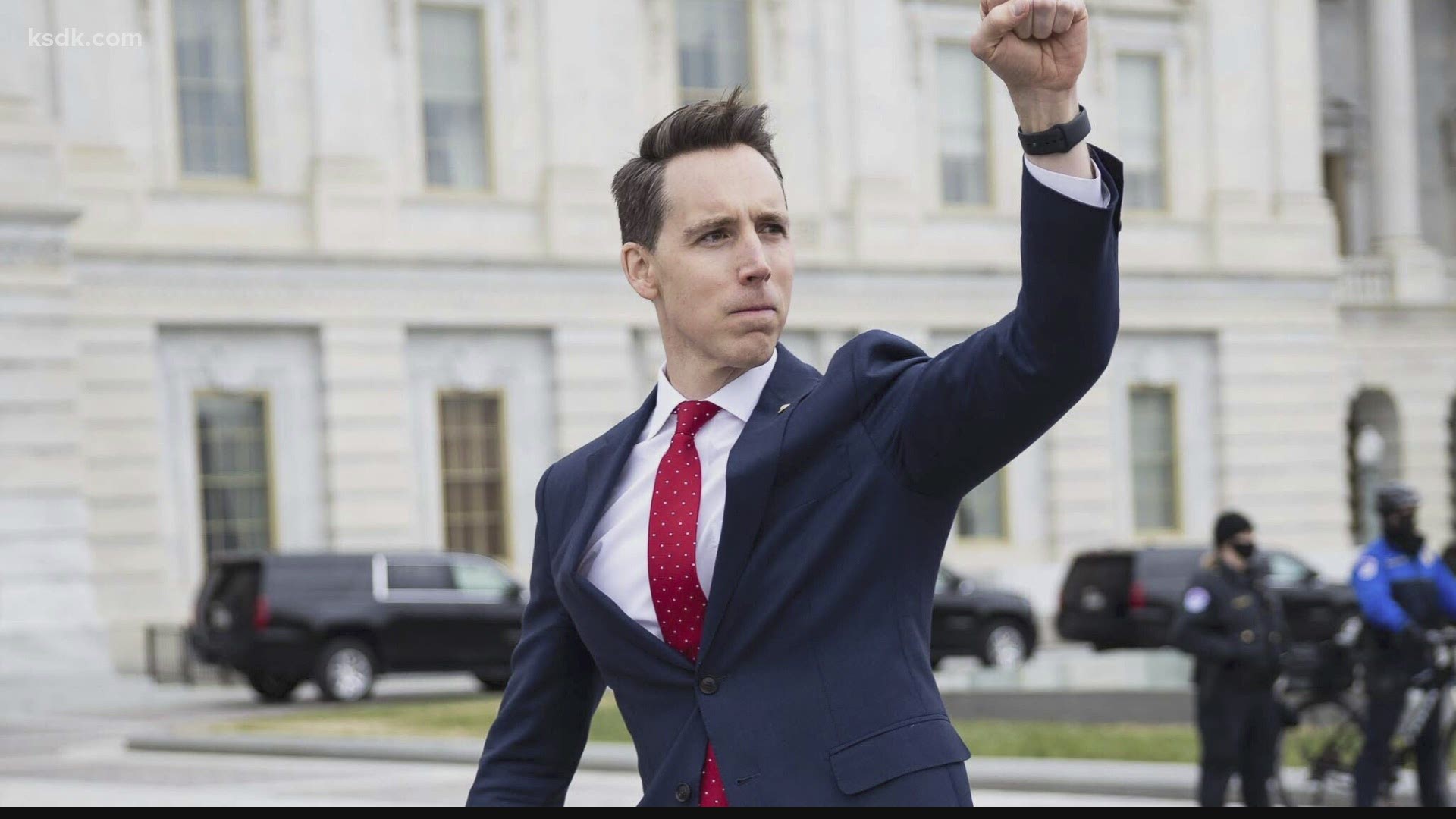 Unlike some other senators — Rand Paul and Ron Johnson come to mind — Hawley isn't stupid. He's a moral and ethical vaccuum with the integrity of sawdust, but he's not stupid. This is calculated. He thinks that acting like a right-wing jerkwad will make him president some day. If he destroys the United States in the process, that's just collateral damage to him.
He'll never be POTUS — I prayerfully hope — but he may be a senator from Missouri for a long time, alas. This sort of crap sells around here. I'm beginning to think Anheuser-Busch products are rotting people's brains.