If you missed Chris Hayes last night, please do watch this first segment.
In brief, a bonkers QAnon theory about bioweapons labs in Ukraine is being mutually affirmed and amplified by Russia and Tucker Carlson, along with other right-wing U.S. media. Yesterday the Russian ambassador to the UN called a Security Council meeting and presented the biolab theory as a justification for Russia's invasion, claiming that the presence of these labs had been corroborated by the U.S. State Department. But it was not. If you want to see how this alleged corroboration was fabricated by Tucker Carlson, it's in the Chris Hayes video. See also Steve M.
Tucker really isn't another Tokyo Rose. He's worse.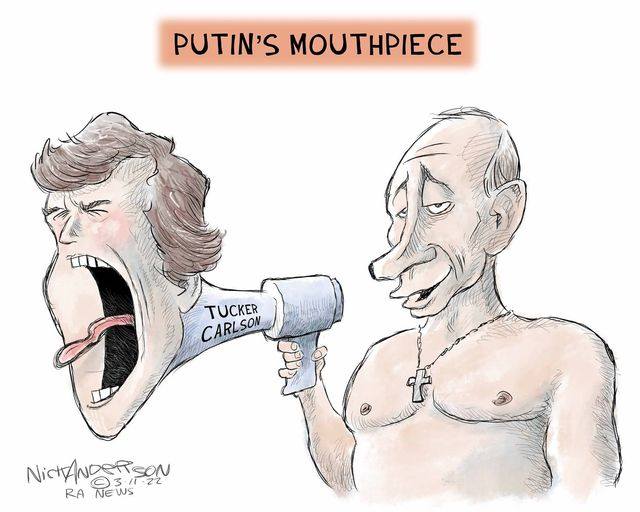 In other news — The Jerusalem Post reports that Israel has been attempting to mediate a cease fire between Russia and Ukraine. But this is not going well.
According to the report, the Ukrainian president and his people did not like the advice.

"Bennett told us to surrender," said the official. "We have no intention of doing so. We know Putin's offer is only the beginning."

In the past two weeks, and especially since Bennett's visit to Moscow, the prime minister's office and the Foreign Ministry have been claiming that Israel's mediation efforts force them to keep an even more cautious and balanced approach. This message was also passed quietly to Zelensky's office. The official also said that Israel asked Ukraine not to request more military and defense aid because such a request could harm the mediation efforts.
Remind us not to ever ask Israel to mediate anything.
Ukrainian officials believe that Bennett's involvement in diplomatic efforts comes from his not wanting to take a clear stance regarding the Russian invasion for fear that it will harm Israel's ties with Russia.
Just stop. Go home, and keep your damn ties with Russia.