"Hope springs eternal in the human breast" wrote Alexander Pope in "An Essay on Man: Epistle I" (1733), which is one of those poems that inspired generations of English lit students to hate poetry. But put that aside. Hope springs eternal among political factions, too. The Left hopes dearly that somehow, someday, Donald Trump's corruption and crimes will be exposed, and he will answer for them.
And the Right has pinned its hopes on — Hunter Biden's laptop.
The importance of the laptop has become mostly symbolic at this point, like Hillary Clinton's emails. if you stopped 20 righties on the street and grilled them why Hillary Clinton's emails, or Hunter Biden's laptop, are important, and what they're supposed to prove — well, probably none of them would be able to answer the question coherently. They just know they're supposed to think these things are significant proof of the nefarious activities of Clinton or Biden. It's something like Pavlovian conditioning, I think.
It came back into the news recently when the New York Times reported that Hunter Biden is being investigated because of his "foreign business activity," and the evidence of this activity comes "from a cache of files that appears to have come from a laptop abandoned by Mr. Biden in a Delaware repair shop." The article goes on to say that there is no indication that the federal prosecutors would ever build any kind of legal case against Hunter Biden for this activity. They're just looking at it, possibly to see if he owes any income taxes on it or if he engaged in lobbying activities without being properly registered as a lobbyist.
Oh, but the New York Times said the magic words — Hunter Biden's laptop — and there was much excitement and rejoicing on the Right.
Andrew Prokop writes at Vox, "Now, conservatives interpreted last week's Times report as a belated concession that the leaked material was authentic, and they're taking a victory lap. 'The Times finally admits: Hunter's laptop is real,' the New York Post editorial board crowed."
Did anyone ever think Hunter Biden's laptop was not a real laptop? Laptops aren't all that unusual. I'm keyboarding on one right now.
The Times did say that some material was "authenticated," but it didn't say what the emails said. These could be old grocery lists, for all we know.
The Washington Post weighed in today, saying they were able to authenticate that some of the emails allegedly found on Hunter Biden's laptop were Hunter Biden emails, but there are catches.
The vast majority of the data — and most of the nearly 129,000 emails it contained — could not be verified by either of the two security experts who reviewed the data for The Post. …

… Among the reasons for the inconclusive findings was sloppy handling of the data, which damaged some records. The experts found the data had been repeatedly accessed and copied by people other than Biden over nearly three years. The MacBook itself is now in the hands of the FBI, which is investigating whether Biden properly reported income from business dealings.
Most of the data obtained by The Post lacks cryptographic features that would help experts make a reliable determination of authenticity, especially in a case where the original computer and its hard drive are not available for forensic examination. Other factors, such as emails that were only partially downloaded, also stymied the security experts' efforts to verify content.
What emails were readable were mostly routine things. However, some revealed details of some work H.B. did with a Chinese energy company that made him a lot of money. WaPo explain these details in a separate article. What the article doesn't say is if any of this work was illegal. Maybe it was, maybe it wasn't. We don't know. It did say there's no indication Joe Biden even knew about it. And if doing business with China is in itself indictable, the whole Trump family needs to turn itself in now.
But then, in a move that was stupid and tone deaf even by Trump standards, Trump pulled one of his "Russia, if you're listening…" stunts and asked Putin to release what he knows about Hunter Biden and his laptop. Trump cited a much-debunked claim that H.B. got a bunch of money from a Russian businesswoman who is the widow of a former mayor of Moscow.
And then there's this, also from the New York Post —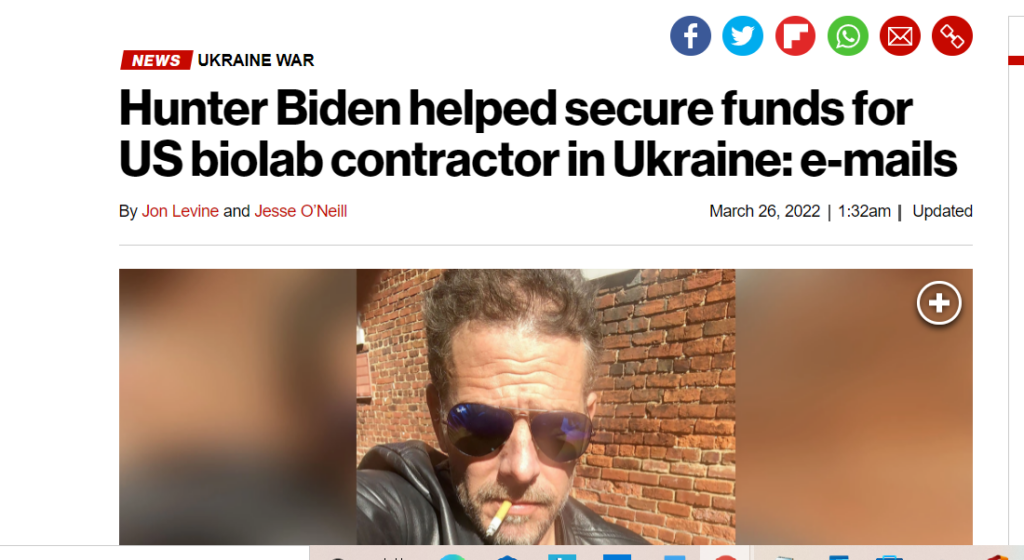 I'm not linking to it. But this is from information released by the Russian Defense Ministry (surprise). Glenn Kessler at WaPo did the debunking.
The Russian Defense Ministry knows how to stir up the interest of the right-leaning news media in the United States — just mention Hunter Biden, the president's son.
Russia for years has been seeding the ground to claim that the United States set up biowarfare labs in Ukraine and other former Soviet republics — claims that have been revived as part of the invasion of Ukraine. As part of his media presentation, Igor Kirillov of the Russian armed forces alleged the labs were part of the U.S. plot to study the natural immunity of the population to identify the most dangerous pathogen for people in the region.
The Defense Ministry released a complex-looking flow chart with spaghetti lines depicting not only the involvement of Hunter Biden but financier George Soros in the alleged financing of "bioweapons labs." But the reference to Hunter Biden was catnip to the right-leaning media. Reporters immediately dug into their copies of Biden's laptop, supposedly left behind for repair in a Delaware shop in April 2019, and dredged up emails that they suggested validated the Russian report.
Yep, I believe it. Now for the fact check —
We've dug into the records and discussed the deals in question with people involved. The reporting from those news outlets is false. Hunter Biden has come under scrutiny for business deals in places such as Ukraine and China that took place while his father was vice president. But he was not "financing" these labs. In fact, he was not part of a decision to invest in a company at the center of the Russian allegations, he did not profit from it as he was kicked out of the investment firm over cocaine allegations, and the company made little money from its tiny bit of business in Ukraine.
I'm getting really tired of this.