Rachel Maddow notices that a remarkably high percentage of Trump's endorsees are alleged spouse abusers.
Republicans want you to know that the last guy was just ACCUSED of killing his wife; he hasn't been convicted. Yet.
Andrew was first arrested on March 26, just hours after state authorities found Nikki's body submerged in a nearby creek, and Boone County Superior Court Judge Matthew C. Kincaid found probable cause for a murder charge against him two days later.

Authorities say they began investigating Nikki's disappearance on March 25 when she 'did not report for work.'

She and Andrew's three children – one of whom is from Andrew's previous marriage — tried repeatedly to contact her, according to the Lebanon Reporter, but her purse and phone were still at the house.

Andrew told the sheriff's deputies – who found him with scratches on the neck – that they had gotten into a fight after she discovered that he was having an affair, and she was probably at her sister's house, FOX 59 reports.

One of their children also told police that Nikki routinely left the house when she was upset, and Andrew had admitted to hitting Nikki in the past.

But when police found blood in the couple's master bedroom and bathroom – and discovered that Nikki had filed for divorce from Andrew on March 17 – they called in the Indiana State Police to lead the investigation. …

… 'During the course of the investigation, detectives were able to determine that during the course of a domestic dispute, 39-year-old Andrew N. Wilhoite, Elizabeth's husband had allegedly struck her in the head with a blunt object, causing her to lose consciousness,' they said in a statement following his arrest.

'He then placed her into a vehicle and drove to a nearby creek where he dumped her body,' they alleged.

Court documents obtained by Law and Order also show that Andrew allegedly admitted to state authorities that he killed his wife.

He said that she attacked him when she learned he was having an affair, and he struck her in the face with a gallon-sized concrete flower pot, according to a probable cause affidavit.

Then when she fell to the ground, Andrew allegedly said he threw her into a truck, took her to a bridge and threw her over the side. He then allegedly tossed the flower pot along the side of US Route 52 as he brought a load of corn into town.
Multitasking is good. Maybe he should put that in his campaign lit. Oh, and there's also this —
Nikki had just finished receiving chemotherapy for an undisclosed type of cancer, which she posted about on her Facebook page, as she shared how her hair had fallen out.
What a prince. But we're not done. I thought of this after seeing this headline today.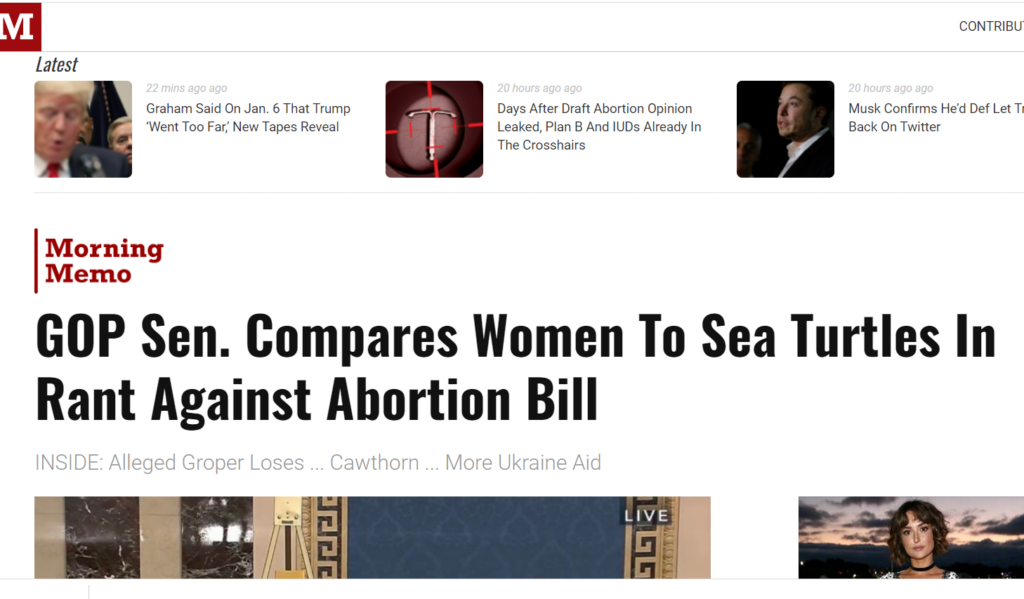 This is from Talking Points Memo. Read at TPM or watch it here:
Daines on Abortion: Why do we have laws in place to protect the eggs of a sea turtle or the eggs of eagles… pic.twitter.com/yr0dM7aaAs

— Acyn (@Acyn) May 10, 2022
I can't even.