Get a load of this headline —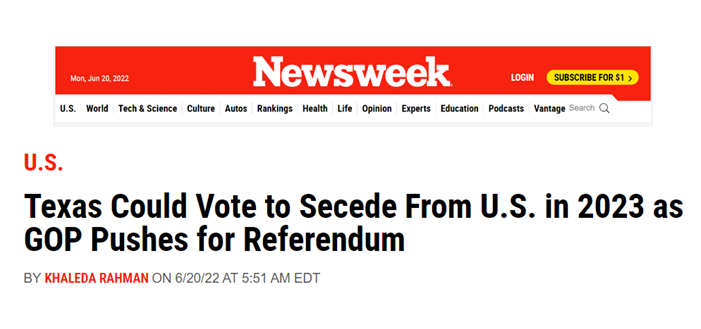 They keep promising they'll go, but they never do it, the jerks. How can we miss you if you won't go away?
This happened at the recent Texas Republican state convention, which sounds like it was an even bigger clown show than the seemngly multiannual CPAC conference.
Among other things, a bunch of MAGA-head Proud Boy types got into the conference and heckled Rep. Dan Crenshaw as a "globalist RINO" and "eyepatch McCain." I understad the latter taunt originated with Tucker Carlson after Crenshaw  visited Ukraine.
Crenshaw always seemed a typical hard-right wackjob to me. The "globalist RINO" charge came from an allegation that Crenshaw had something to do with the World Economic Forum, although I don't know exactly what. He also was accused of supporting red flag laws, although he says that is not his position now. But somehow he is suddenly persona non grata among the insurrectionist set.
Back to the Texas GOP conference — along with calling for a secession referendum of some sort to appear on ballots in 2023, the conference appears to have approved the following:
A resolution rejecting the result of the 2020 presidential election and calling Joe Biden an "illegitimate president."
A resolution calling for the complete repeal of the 1965 Voting Rights Act.
A party platform calling homosexuality "an abnormal lifestyle choice." Also the Log Cabin Republicans, which represents gay Republicans, was blocked from having a booth at the conference.
Another part of the platform called for teaching schoolchildren about "the humanity of the preborn child,"
Delegates adopted a formal "rebuke" of Sen. John Cornyn for engaging in bipartisan gun control talks. Cornyn was booed when he tried to give a speech explaining the talks.
This is all reminding me of a particularly creepy Twilight Zone episode. No one is allowed to disagree with the demon child. Except now there are a lot of demon children.
Going back to the Newsweek article and the secession resolution —
Under a section titled "State Sovereignty," the platform states: "Pursuant to Article 1, Section 1, of the Texas Constitution, the federal government has impaired our right of local self-government. Therefore, federally mandated legislation that infringes upon the 10th Amendment rights of Texas should be ignored, opposed, refused, and nullified.
I hope they all understand that if Texas secedes, Texas citizens will forfeit all connection to Social Security and Medicare.
"Texas retains the right to secede from the United States, and the Texas Legislature should be called upon to pass a referendum consistent thereto."
So Texans just want to declare they have a right so secede (they don't), not that they're actually going to secede. Do stop being such a tease, Texas.
In related news: Former Missouri governor Eric Greitens, currently the Republican front runner for Roy Blunt's Senate seat, has released an ad so irresponsible and offensive that it was banned from Facebook. So let's see it!
Yeah, he's telling his followers to go RINO hunting. I assume he's referring to his GOP political opposition, none of whom strike me as all that RINO-ish. They're all verious degrees of MAGA. Unfortunately. Maybe former Navy SEAL Greitens will go hunting for former Navy SEAL Dan Crenshaw.
Seriously, this is not sustainable. At some point the only way left for them to up the ante will be to really start shooting each other.