Perhaps the best way to understand the Right is to imagine that most of them are 10-year-old boys. Then they kind of make sense.
For example — the latest in the Hunter Biden Laptop saga is that Matt Taibbi — who is now working for Elon Musk, apparently — released the "Twitter files," which was some internal communication from the pre-Elon days in which Twitter staff debated whether to allow some files, allegedly from Hunter Biden's laptop, to be published on Twitter. And after some discussion it was decided to nix them. I have not read the "Twitter files," but I understand that the participants decided the material violated Twitter's policy about publishing hacked material.
Much of the Right erupted in outrage and began screaming about "censorship," showing us once again they don't understand what "censorship" is, since Twitter is a private company and not the government.
Tim Miller writes at The Bulwark — in No, You Do Not Have a Constitutional Right to Post Hunter Biden's Dick Pic on Twitter —
While normal humans who denied Republicans their red wave were enjoying an epic sports weekend, an insular community of MAGA activists and online contrarians led by the world's richest man (for now) were getting riled up about a cache of leaked emails revealing that the former actor James Woods and Chinese troll accounts were not allowed to post ill-gotten photos of Hunter Biden's hog on a private company's microblogging platform 25 months ago.

Now if you are one of the normals—someone who would never think about posting another person's penis on your social media account; has no desire to see politicians' kids' penises when scrolling social media; doesn't understand why there are other people out there who care one way or another about the moderation policies surrounding stolen penis photos; or can't even figure out what it is that I'm talking about—then this might seem like a gratuitous matter for an article. Sadly, it is not.

Because among Republican members of Congress, leading conservative media commentators, contrarian substackers, conservative tech bros, and friends of Donald Trump, the ability to post Hunter Biden's cock shots on Twitter is the number-one issue in America this weekend. They believe that if they are not allowed to post porno, our constitutional republic may be in jeopardy.

I truly, truly wish I were joking.
Well, okay, I'm gathering from other news stories that the hacked files weren't just dick pics. The files had been the subject of a New York Post article of October 2020, right before the election. The NY Post claimed to have proof found on Hunter Biden's laptop that Joe Biden had met with an executive of Burisma, the Ukrainian company Hunter was working for, which allegedly indicated that Joe Biden used his influence as Vice President to benefit Burisma. Oh, and there were some "explicit" photos also. But none of the "evidence" regarding a Burisma connection, which any ten-year-old with a computer could have fabricated, actually says what it was that Joe Biden did, beyond being introduced to a guy. And the sourcing was obviously hinky.
It came out in 2021 that Twitter had chosen to suppress links to the Post story, and Twitter executives in 2021 said that the suppression was a mistake, but looking at the Post story now, I don't think so. It seems to me to be a reasonable decision, given the skimpiness and murky provenance of the information.
And to this day no one has been able to show that Joe Biden did anything to help the Burisma company or Hunter Biden's position in it. But the children won't let go of it, because if they're going to bring articles of impeachment against Joe Biden as payback for Trump's impeachments, the Burisma non-scandal is mostly what they've got.
The Right is telling itself that Tim Miller's Bulwark post "backfired."
This piece is a masterpiece in dishonest strawman-ing. There's no reason for anyone to who supposedly believes in "democracy" to defend suppressing news. So they have to pretend it wasn't. https://t.co/KdIKzx9P57

— David Harsanyi (@davidharsanyi) December 3, 2022
What "news"? This was just a repetition of an allegation that was already making the rounds. And there's nothing in the "Twitter files" that hadn't come out from other sources some time ago. See also Elon Musk's Big 'Twitter Files' Reveal Turns Into Snoozefest at Rolling Stone and Elon Musk's promised Twitter exposé on the Hunter Biden story is a flop that doxxed multiple people at The Verge.
I really thought they'd come up with more. Any big organization has a large number of idiots within it. I figured you could cherry pick some embarrassing asides from junior employees, at least since they have access to everyone's emails and chats. Basically it was the responsible executives discussing whether to invoke their post-2016 rule against publishing hacked material. They decided to do so, said they needed to be cautious and most of all find out more information.

Again, people taking their responsibilities seriously, trying to make the right decisions. Shocking stuff.
Taking responsibilities seriously, or "adulting" in any form, is not a concept the children can grasp.
While this episode has been taking up way too much space on the Intertubes, other things have happened that might be important. For example, Trump is now calling for the Constitution to be suspended.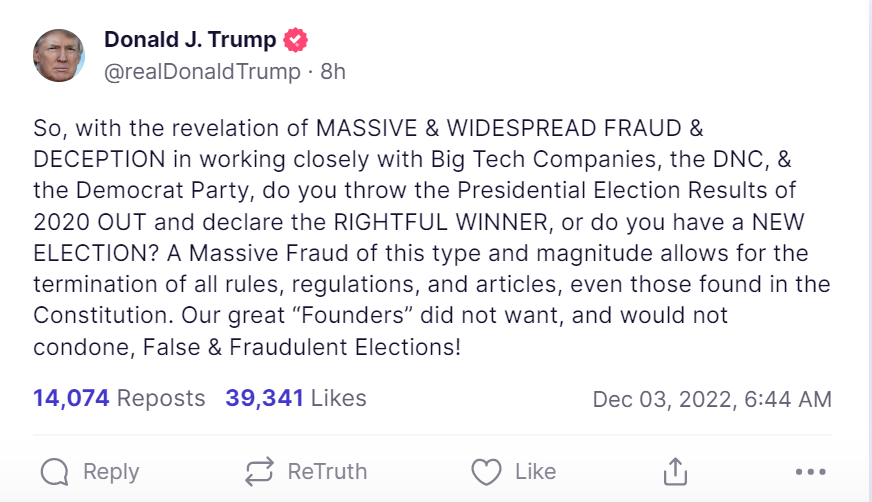 This is a screen grab. I'm not linking to crap on Truth Social. It's not hard to find, if you want to find it.
And I want to say I'm encouraged that the Democratic Party finally is demoting the Iowa Caucuses as the first-in-the-nation nomination event, and the New Hampshire primary as first primary. In both 2016 and 2020 the caucuses showed us they didn't deserve the responsibility. See Thanks Loads, Iowa from February 4, 2020. No more of that crap. I have fewer complaints about New Hampshire, but it probably would be good for the Dem nomination process to have the early primaries in more diverse states.