There's something obscene about arguing over a graphic as we totter on the edge of World War III, but as I've been accused of being insensitive by people I respect I'm going to (reluctantly) open another thread for discussion of the infamous Lieberman blackface graphic. (If you are new here, please read my first post on the subject before commenting, and note that any comments that deliberately misrepresent what I wrote, or what other commenters write, will be deleted.)
Some warmup: I have a habit left over from my Zen student days of stepping outside my emotions and analyzing them. This is a means to develop equanimity and purge oneself of ego attachment. I don't claim to have succeeded, mind you, but I still make the effort. There's more about the practice of examining one's own anger here and an advanced dharma talk here, for the adventurous. This may be new to you, but please give it a try. Although certainly there is righteous anger that arises on behalf of others, most of the time anger is like a guard dog defending our egos. I request that everyone chain up the guard dog, at least temporarily.
There are a number of issues here, which I'll present randomly–
As I said elsewhere, symbols have no intrinsic meaning or power; they have only the meaning and power we assign to them. And that's a subjective, individual thing. The same symbol — let's say, a Christian cross — might represent love and salvation to one person and hate and oppression to another. Racist symbols push a lot of buttons in our society, certainly, and evoke a lot of pain. Using racist symbols to make any point is perilous, for that reason. And, yes, one could argue it's dumb and inconsiderate, as well. But not necessarily malicious.
Starting with the dumb part: There is a lot of material on the left side of the blogosphere that offends me. I am very squeamish about sexually explicit language and graphics, for example. I attribute this squeamishness to my advanced age and 1950s-era midwestern small-town upbringing, however, and usually don't make an issue of it except when it carries over into public demonstrations. But if we bloggers are in fact going to become major players whose utterances become hot button issues that could sway elections, perhaps it's time to tone down the raunch on the blogs as well. As Mary Mary said here, "If bloggers want to play with the big kids they'd better start acting like it."
But then (she said, taking the other side) the strength of blogs is that bloggers can be gut-level honest in ways that writers for commercial media cannot be. Is there a line that can be drawn between "toning down the raunch" and self-censorship? I could argue that line might be found somewhere between clear and honest expression of opinion and pandering to one's audience. I think the Lieberman blackface image falls into the "pandering" category. But then firedoglake gets about six times the traffic The Mahablog gets, so what do I know? Maybe I should do more pandering.
Although I defended it, I wouldn't have published the Lieberman blackface image on The Mahablog, controversy or no controversy, because although it had a point it was not an illuminating point. In other words, if you have to read the text to clarify what the illustration means, then the illustration isn't being illustrative. Further, blackface is ugly and disgusting, and I don't generally publish ugly and disgusting graphics here. Snarky is as far as I go.
Dave Neiwert and I are on the same page, I believe —
Now, longtime readers of this blog know that cursing and profanity aren't really my style, though I do use them when the occasion warrants. And I have argued that obscene hate mail and vicious sexism have no place in the left's repertoire.
However,
But there is a place for profanity. Even if it's not my style, I well understand that the outrageous behavior of the right inspires real and righteous outrage; people are being killed on behalf of their agenda, after all. After awhile, it's only natural to respond to constant abuse — the threats, the charges of treason, the constant personal attacks, the outrageous abuse of power — with a straight shot to the face: "Aw, fuck you, asshole."

I think bloggers like Atrios, Digby, Tbogg and Jane — and scores of others — do a good job of giving voice to that outrage, and it's needed. Reason and facts often are next to worthless when confronting these jerks, and though I do my best to provide them, I also applaud those who fight back — especially when they do so with as much wit as you often find in left Blogtopia [yes, skippy invented that term].
And I'm relieved I'm not the only one who thinks intention matters —
As with all such cases, it all boils down to intent. If this had been posted to derogatorily suggest that Lieberman was secretly a "black man" at heart (the kind of thing that is known to occur at certain far-right sites) then it would be a clear-cut case of race-baiting. If the intent, on the other hand, is to portray Lieberman as a pretend black sympathizer in the mold of a minstrel showman (as the artist responsible later made clear in the post's comments) then it's fairly harmless. Dumb, and not particularly effective, but harmless.
I really hate it when people take offense where (it seems obvious) none was intended. A wise person once told me if you don't take offense, no one can offend you. I admit that takes discipline, but it's the truth. And as explained above I don't expect the whole world to tiptoe around and cater to my personal sensibilities, but I'd like the same consideration.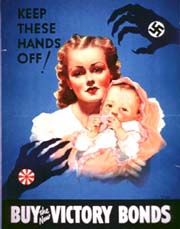 I defended Jane Hamsher not because I thought the graphic was brilliant, but because it was obvious to me she was not making a racist statement. Instead, she was making a statement about racism — more specifically, about a white politician's racial hypocrisies. Slams of Hamsher did not make this distinction. But if we assume that any use of a racist symbol is racist per se, then by the same logic the World War II poster at left is anti-Semitic because it incorporates a swastika.
This rightie dug up other stuff out of firedoglake so he could rant about how awful it is. The first thing you probably notice on the page is the raunchy boys-in-leather image, which firedoglake didn't publish but only linked to. Like this. This image leaves me cold, but I guess other people find it amusing. The image is closely parallel to the blackface image, except that instead of pretending to be black Lieberman is pictured as pretending to be gay. I suppose one could argue that the image is homophobic, because it depicts gay men in a stereotypical way. I don't know that anyone complained about it, though. The rightie bloggers calls it an example of "sexually perverted imagery" — isn't that homophobic?
I believe I could argue that this image of John Kerry in drag, while a lot less explicit, is misogynistic because it depicts being female as demeaning.
The rightie goes on to catalog examples of sexually explicit language at firedoglake. As I say I don't care for raunchy language myself, but on the Left I seem to be an anomaly in that regard. But then the rightie finds it equally shocking that Ned Lamont agrees with Jack Murtha on Iraq — like any deviation from Dear Leader is just wrong — and objects to calling the "Religious" Right the "American Taliban," which seems to me spot on (hey, if the shoe fits …). Lots of us lefties have used the same phrase many times before. Strong opinions are always going to be offensive to somebody. That's why freedom of speech has to be protected.
Let's wade in a little deeper. Mahablog commenter Kevin objected strongly to my defense of Hamsher, here, here, and here. And although Kevin is very articulate it still isn't clear to me where the offense lies if (as he says) he doesn't believe Hamsher is a racist. I also agree with Ian that the Malcolm X quote e.g., "the white liberal is able to use the Negro as a pawn or tool in this political 'football game'") was uncalled for. It seems to me Kevin is assuming I am racist, and insincere about it. I admit I am frequently oblivious to many things, and I cannot speak to anyone's inner motivations but my own, but I sincerely hate racism and do not want to use anyone as a pawn or tool. Being one of the more marginalized creatures on the planet myself, I'm hardly in a position to have pawns of my own, anyway.
Certainly you can argue that the Democrats have fallen short of keeping their promises to African Americans. But, hell, in the past several years the Democrats have fallen short of keeping their promises to all of us. Welcome to Progressive World. The whole point of the Lamont challenge is to send a message to the Dems they need to start listening to their base instead of the lobbyists and interest groups.
I was also stunned that Liza Sabater, who is a friend and a good-hearted person, slammed Jane Hamsher for being a "white woman of privilege" who presumed to speak for the black people of Connecticut. I never did see the text that went with the graphic, so maybe I'm missing something. And I sorta thought all us progressives were in the fight together. Certainly if, say, a black man presumes to speak for white-but-not-privileged me he's welcome to go ahead and do so; I'll take all the help I can get.
I learned a long time ago never to tell others they shouldn't be angry. Through the years I've met people who have endured outrageous violations of their being, from many sources. Nobody gets through life without some wounds, but some people do seem to get wounded a lot more than others. However people deal with their anger is a personal matter. I'm not going to deliver any lectures on that today, except to remind readers that anger tends to be a defense mechanism (remember the guard dog?). It's up to us as individuals to come to terms with whatever the dog is defending.
But although I regret whatever anger my position provoked, and although I acknowledge that anger may be understandable, at the moment I do not see cause to change my opinion in this matter. If there's something I'm not seeing, please enlighten me.