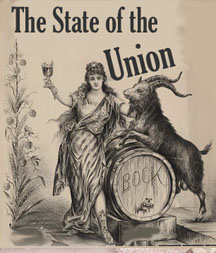 Be sure to drop by tonight for blow-by-blow live blogging of the State of the Union address. You are welcome to watch the SOTU along with me and add your commentary to the comments. Or, you can blow off the SOTU and add your commentary to the comments, anyway. I don't know that it matters. You know the boy ain't gonna say shit. I only plan to watch so I can see Nancy Pelosi looming in the background.
However, there are some things we can watch for, like whether the creature can pull off looking confident, or if he says something that hasn't already been leaked. Advance word is that the creature plans to focus on domestic policy; stuff that isn't so much, you know, Iraq.
The President is expected to announce a major health care initiative, which I discussed earlier this week, here and here. Today we have the exciting news that The Dumbest Health Care Plan Ever!â"¢ has gotten even dumber. Christopher Lee and Lori Montgomery write for the Washington Post,
The best solutions to the problem of nearly 47 million Americans lacking health insurance are to be found in states across the country, Health and Human Services Secretary Mike Leavitt said Monday.

President Bush will propose in his State of the Union address tonight, Leavitt said, that the federal government redirect some money from programs such as Medicaid and Medicare into a new grant program to help states devise and implement plans ensuring access to affordable health insurance.

Leavitt, who did not specify a funding amount, said the new Affordable Choices Initiative would help fuel efforts already underway in states such as Massachusetts and California to guarantee access to basic health coverage for everyone.

"The aspiration for all Americans to have access to a basic insurance policy at an affordable price is a widely held sentiment," Leavitt said. "There will be two diverging philosophies on how to solve this problem. One will be to have the federal government ensure everybody, and the other will be, 'Let the states lead.' "
The Massachusetts Plan hit some rocks recently when somebody figured out that the "affordable" insurance the plan promised would cost $380 on average per month for an individual, and "up to $580 per month for a 56-year-old." The catch is that insurance is mandated, so poor, uninsured folks in Massachusetts are expected to scrape this money together somehow or be in violation of law
But from a wingnut perspective, the Affordable Choices Initiative would not only slice a few pennies off the cost of health insurance, it would gut Medicare and Medicaid in the bargain! Win/win!
WaPo's Lee and Montgomery continue,
Meanwhile, another Bush health care proposal drew a chilly reception from some Democrats. Bush will urge the creation of new tax breaks for the purchase of health insurance, especially by those who do not get coverage through work. Bush advisers acknowledged Monday that the plan initially would cost the federal government millions of dollars in lost revenue, but said that would be offset by more revenue in later years and the plan would pay for itself within the first decade.
And you know that whenever a Bushie says a plan will "pay for itself" — we'll be robbed.
[Update: Ezra has more details on The Dumbest Health Care Plan Ever!â"¢]
Here are some links to keep you busy as we anticipate the big event:
Bush To Face Skeptical Congress
Diminishing clout presents challenges for Bush
How chilly a reception in the House chamber?
Nearly two-thirds in U.S. have given up on Iraq
Saving Their Seats, and Maybe the Country
[Update:] Trying to Change the Subject