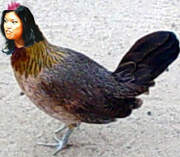 The latest news from La Lulu is that she has refused to debate Ezra Klein. Ezra was mean to her, see. Her "refusal" amounts to one long self-pitying temper tantrum.
M'love, the first rule of blogging is, if you can't take it, don't dish it out.
I second Mustang Bobby:
Not a big surprise, and I don't think Ezra is surprised that not only did she turn him down, she used the opportunity to launch another full-scale attack on him and anyone he's met, talked to, or sat next to in an airport departure lounge. And frankly, I think that while Ezra may have made the debate offer in good faith, he knew what the response would be. But it was nice of him to at least make the offer and to prove once again that the right wing is not interested in discussion or discourse; they just want to make a lot of noise and obscure the fact that they can't make their case.
Tbogg provides an ode:
Brave Ms. Malkin ran away.
Bravely ran away, away!
When debate reared its ugly head,
She bravely turned her tail and fled.
Yes, brave Ms. Malkin turned about
And gallantly she chickened out.
Bravely taking to her feet
She beat a very brave retreat,
Bravest of the brave, Ms. Malkin!
Lots of people are linking to an old Malkin post in which she complains how hard it was for her and her husband to find an affordable private health insurance policy. They settled for a high-deductible plan. Today she says,
Grown-ups, on the other hand, will be able to grasp effortlessly that if I had decided not to buy private insurance and then demanded that the government cover my medical expenses and insure me after a catastrophic accident, then, yes, why, yes, you could flap two HYPOCRISY! cards up and down in each hand until your feet lifted off the ground.
What they haven't yet realized is that if they face a medical disaster similar to what the Frost family went through, their insurer will drop them like a hot calabasa unless state regulations say otherwise.
See this discussion on health care that was on CNN last June. The young lady representing the Right kept going on about how she didn't have health insurance because she was self-employed and wanted some kind of tax credit so she could afford it. She already can deduct every penny she spends on health insurance from her taxes, but that's not good enough. Further, since she's young and healthy she thinks it doesn't make sense for her to purchase health insurance when she sees a doctor maybe once or twice a year.
See also "We Are All Uninsured Now." The fact is that the increasing numbers of Americans without health insurance is creating big honking social problems that affect all of us, directly or indirectly. It can't just be dismissed as somebody else's "bad choice" that's "not my problem."
A perspective from the grown ups (you have to be 50 years old to join) at the AARP:
Mark Steyn patiently explained once again today that parents of four children earning 45,000 dollars a year should just work harder and sell their house to pay for health insurance:

Mr Frost works "intermittently". The unemployment rate in the Baltimore metropolitan area is four-percent. Perhaps he chooses to work "intermittently," just as he chooses to send his children to private school, and chooses to live in a 3,000-square-foot home. That's what free-born citizens in democratic societies do: choose. Sometimes those choices work out, and sometimes they don't. And, when they don't and catastrophe ensues, it's appropriate that the state should provide a safety net. But it should be a safety net of last resort, and it's far from clear that it is in this case.

Setting aside the total dishonesty of that — surely Steyn has been informed by now that the Frost kids go to private school on scholarship and the house was bought for 55,000 in 1990 — what has become crystal clear in this debate is one that I think needs to be discussed. The Republicans believe that people should be completely destitute, living in a one room shack and working two jobs before they "deserve" subsidized health insurance. The middle class who are one car accident or one cancer diagnosis away from losing their jobs, being unable to afford either the cadillac COBRA plans from their employers (my last one here in California was $1700.00 a month and I'm healthy) must not be allowed to keep ANY assets.They must be, as Steyn's pal wrote, "dying on the streets with sores on their bodies" before they qualify for aid.

But, of course, neither will they necessarily even be able to buy private health insurance at any price even if they do live in a one room apartment with their four kids and work two jobs. (I was turned down recently because I had had gum surgery in 1996.)
See also Sadly, No, TRex, and Morte.
Update: See also Time magazine, "The Swift-Boating of Graeme Frost." The only problem with this article is that it attributes the reprehensible behavior to "bloggers," not "right-wing whackjob bloggers."
Update2: Hale "Bonddad" Stewart:
Under the Malkin theory, either poor people shouldn't have children because insurance is too expensive, or the poor should go into debt to pay for insurance which under the new bankruptcy laws is tantamount to indentured servitude.
Read the rest of Hale's post for a grand argument for single-payer health care.
Update 3: John Roberts on CNN this morning repeated the rightie claim that the Democrats are to blame for the assault on the Frosts.
John Cole (emphasis added):
I can understand why people would get frustrated if the Democrats put up a little boy who stated "Please don't kill this bill or I will suffer." It would be demagoguery and shameless and it would be hiding behind a kid.

But that isn't what happened here. What happened here is that the Democrats chose someone who had been helped by the program, and they stood up and told people that it had helped them and an expansion might help others. …

… It wasn't hiding behind a kid, it was the picture of advocacy by citizens who had been helped by a government program (Given the governance of the past few years, I will admit that it is entirely conceivable that a certain subset of those screeching are unaware that government programs are allowed to help people. Not all of them are designed to whisk people away to secret CIA facilities or read your email and listen to your phonecalls.).

It is, also, not the first time something like this has been done. By now you have heard of Noah McCullough, the nine year old who traveled with Bush to advocate on behalf of social security. Or the snowflake babies, on stage with Bush when he vetoed the stem-cell bill. My memory is not perfect, but I do not remember similar campaigns to viciously attack these kids and their families.

Aside from the disgusting nature of the attacks on the Frost family, this is one of the things that has many of us aghast. To what end are these Freepers and Malkinites and Corner readers attacking these people, as even if the Bush veto of the expansion holds, they are going to still qualify for the program? The inability to recognize this, and the instinctive need to just attack, attack, attack and smear, smear, smear is what has surprised me the most. This is not a policy dispute to these folks- this is tribalism, and something deeper and darker and more sinister. It was a mob whipped into a frenzy, a blind rage, and there was no point to it other than the rage itself.