If you like Halloween, you'll love this. Drop a few of these around your right wing neighborhood: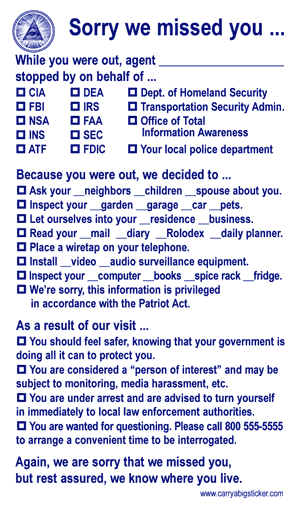 Much less funny is this video of AT&T whistleblower and former technician Mark Klein explaining how AT&T was copying all internet traffic coming across its cables:
…It affects not only AT&T's customers, but everybody….and so they're basically tapping into the entire internet. If they're doing what they say they want to do – look at international traffic – none of this makes any sense. ….these installations only make sense if they're doing a huge, massive, domestic dragnet on everybody in the United States. These companies know very well what's legal and illegal – they've been dealing with this for decades…this is why Qwest refused the NSA's approaches because they weren't shown any legal justification for it – they did the right thing and said No….
And yet, Feinstein backs legal immunity for telecom firms. Will we hear more of her brilliant "Mukasey is not Gonzales" logic? Perhaps she can arrange for the immunity law to require telecoms to drop a friendly "Sorry we missed you" e-notice into our inboxes.
h/t to Avedon Carol.