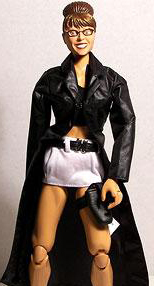 Yes, there's a Sarah Palin action figure doll. Those of you who still have your George W. Bush fighter pilot action figure doll will want one. Just don't tell me what you do with them.
I don't know if Gary Kamiya saw the Palin action figure before he wrote "The dominatrix" for Salon. Readers are complaining that the article is sexist. Personally, I think Kamiya has a point.
At a conscious level, the Republican duo are masquerading as reformers who will "clean up Washington." But their unconscious appeal may be more important. By choosing Palin, McCain and the GOP have elbowed the Democrats off the dance floor. In a bizarre turnaround, the uptight Republicans are suddenly the party of sex, women, fun. They're all about spontaneity, bucking convention, letting their freak flags fly. If it feels good, do it! Let Mr. Dignified, Obama, drone on about the economy or the resurgence of the Taliban or whatever boring downer of a subject he wants to lecture us on. Let that long-winded Joe Biden carry us back to that Poli Sci 201 class we fell asleep in. Hey, did you check out Palin's rack? It's party time in America!
Kamiya also suggests that "Drill, drill, drill" has a subtext I hadn't thought of.
McCain's rise in the polls appears to be almost entirely a reaction to Sarah Palin. As everyone keeps saying, she has "energized the base." That's another phrase that's taken on new meaning for me after reading Kamiya's article, but never mind. There is disagreement over how much bounce McCain got, and whether it will last. (For discussion see this and this.)
I have no doubt that the wingnuts will love Sarah Palin forever. After all, we're talking about people who are still angry that the Senate bounced Robert Bork's SCOTUS nomination more than 20 years ago. If the Palin-McCain ticket loses, the loss will be added to their Grievance Hall of Fame.
What remains to be seen is whether Palin can keep the affection of those swing voters who have swung in her direction. Maybe, but I think it's more likely she'll end up being a novelty toy that amuses for a few days but quickly ends up in that box of random junk in the basement.
As Josh Marshall points out, Palin's "reformer/maverick" persona is built entirely on lies. And, for a change, the MSM actually is reporting on some of these lies. Current headlines:
"Palin Billed State for Nights Spent at Home: Taxpayers Also Funded Family's Travel" (Washington Post)
"Record Contradicts Palin's 'Bridge' Claims" (the bleeping Wall Street Journal, believe it or not)
I like the Obama campaign's response ad. It even uses the "L" word — lying. Whoa!
The McCain campaign's issue-free ads tout the ticket as a pair of "reformers" and "mavericks" who will bring "change." All image, no substance. Will that work? I've seen similar campaigns fail in the past, and I've also seen them succeed. I think a lot depends on what mood the electorate is in.
The GOP marketing strategy is essentially the same one they used to sell Dubya in 2000. Al Gore is a bore. George Bush is fun. Hey, America — are we having fun yet?