[Update: This photograph moves me deeply, and not just because of the size of the crowd. The blue-domed building in the background is the old courthouse, where the Dred Scott case was tried in the 1840s 1850s.]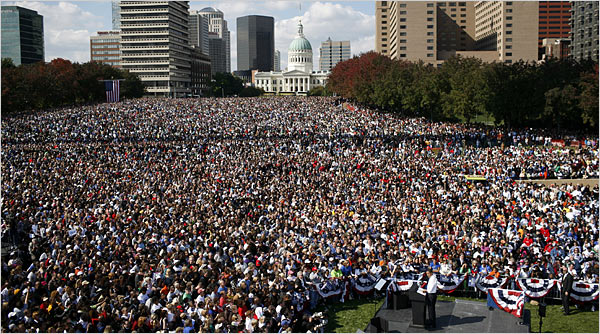 There was a massive Obama rally in St. Louis this afternoon. Here's some coverage from the St. Louis Post-Dispatch.
Watch: Video from the Obama crowd at the Arch
Obama rally: Secret Service puts crowd at 80,000
The Secret Service estimated 80,000 people attended the rally at the Arch today, but St. Louis police estimated 100,000. That's a lot of people. Missouri recently slipped from the leaning-McCain column into the slightly-leaning-toward-Obama column, I understand, although it will be very close.
And judging by the videos, people at Obama rallies are nicer than people at McCain rallies.
Tigers! Maul those Longhorns!
Update: "All I Can Say Is, Wow"