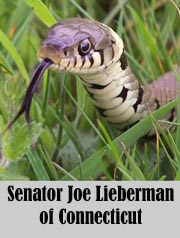 It says something that I didn't have to create a new "snake in the grass" image for Creepy Joe. I created one last year.
Lots of venting today, from the sarcastic ("In Defense of Joe Lieberman"), to the more sarcastic ("Surprise! Lieberman Stabs Dems in the Back!") to the straight reporting — see Timothy Noah, "Did Lieberman Just Kill the Public Option?":
Ezra Klein of Washingtonpost.com and Jonathan Chait of the New Republic both point out that Lieberman's reason for opposing the public option—that it's too expensive—makes no sense, because the public option actually lowers the cost of health reform by exerting downward competitive pressure on the private-insurance premiums whose purchase the government would subsidize. The Congressional Budget Office's scoring of the Reid proposal is expected to show this. But any illogic in Lieberman's position strikes me as evidence not that Lieberman is likely to change his mind when he becomes better acquainted with the facts but, rather, that Lieberman has already decided facts shouldn't get in the way of his opposition.

Why would Lieberman want to sink health reform? Klein points out that in the pretty recent past, Lieberman has supported the general goal, if not the specifics, of Obamacare. But consider Lieberman's political situation. He is no longer a Democrat. That means he no longer has a political base. In the future, he will have to rely more on constituencies and on cash. The White House suggests that Lieberman wouldn't dare alienate voters by opposing health reform. But what's the most cash-rich constituency in the Nutmeg State? The insurance industry, which is headquartered in Connecticut and employs 64,000 people.
Pretty much sums it up. See also "Is Anybody Still Surprised by Joe Lieberman?"
I don't expect Lieberman to back down under any circumstances.