In a graph, from the Congressional Budget Office: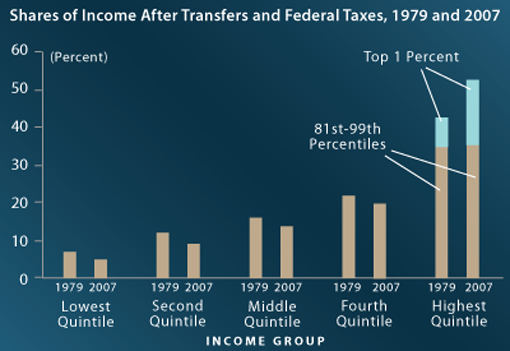 There's your class warfare, folks, and we're losing.
And then there's the student loan issue (click image for full size) —
This isn't just a problem for the young folks; it promises to strangle our economy for years to come. President Obama has proposed a relief program that would cap student loan payments at 10 percent of income and forgive the balance after 20 years of payments. Think about that — 10 percent of income for 20 years, and that's a reprieve from what they have to pay now. We're going to have to do better than that. This is ridiculous.
And where is that money going to, really? I have a hard time believing that the cost of educating most young people is really that high.
Meanwhile, true to form, GOP candidate Rick Perry has proposed a tax plan that he says would cut taxes on all income groups, but which independent analysis says would actually only cut taxes for the very wealthy and increase them for everyone else. Elsewhere, GOP candidate Mitt Romney takes being an empty suit to Olympic levels. At Salon, Steve Kornacki has written one article after another about how Herman Cain's campaign is about to implode. Now he's finally admitted that, given the quality of Cain's competition, maybe it won't.
At the front — here's an interview of historian Michael Kazin, who has a very smart analysis of OWS, with which I entirely agree. See also Paul Krugman, "Say Anything."