Rex Nutting at WSJ Market Watch wrote that under President Obama, federal spending has increased at its slowest rate since, well, a long time.
Although there was a big stimulus bill under Obama, federal spending is rising at the slowest pace since Dwight Eisenhower brought the Korean War to an end in the 1950s.

Even hapless Herbert Hoover managed to increase spending more than Obama has.
See chart: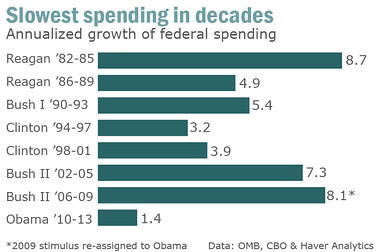 Yesterday I ran into a wingnut who could not be made to understand the chart represented rates of increase in spending, not dollars spent. Ann Coulter seems to have had problems grasping what the chart says, also. And James Pethokoukis, a hack who "in AUGUST OF 2008, was denying that we were in a recession. He then, a few months later in October 2008, was forced to admit we were in recession (since the economy had crashed and the DOW had dropped 5,000 point), decided that the reason the economy tanked and the DOW dropped was because investors were afraid that Obama was leading in the polls," took issue with it also. Pethokoukis compared spending as rates of GNP between Bush and Obama without noting that the economy contracted in 2008. Note that many of the comments to Pethokoukis's article are better than the article.
Yesterday Jay Carney cited the Nutting argue when he lectured newsies on Air Force One to stop repeating right-wing talking points without verifying if they are true. I'm not going to hold my breath waiting for anything to change. See also Joan Walsh.