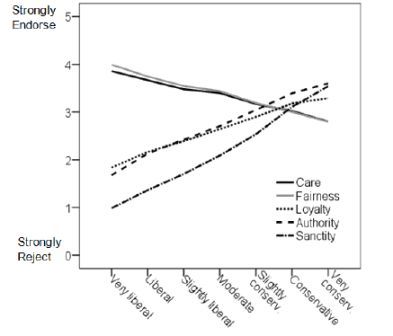 I am fond of Moral Foundation Theory. It isn't a perfect explanation for everything that people think, but it explains a lot.
Moral Foundation Theory was developed by social psychologists to explain how people arrive at moral judgments. In brief, few if any of us simply think what we're told to think by religion or by our cultures. Well, we do in a way, but it's more complicated than we might think. Instead, our moral judgments arise from deeply subconscious intuitive orientations, and the social psychologists believe we are born pre-wired with these orientations.
Life experiences and cultural conditioning determine how our orientations develop. But someone who is pre-wired to be a prude, for example, is unlikely to completely escape being a prude no matter how he is raised. Judgments happen when we get emotional cues from the subconscious, and then we seize upon a narrative or some explanation for why we think the way we do.
When applied to politics, the Moral Foundations people list six orientations:
Care/harm
Fairness/cheating
Liberty/oppression
Loyalty/betrayal
Authority/subversion
Sanctity/degradation
1. Care/Harm — Being kind, gentle and nurturing and protecting people from harm.

2. Fairness/Cheating — Treating people with equality and justly, in proportion to their actions.

3. Liberty/Oppression — Giving people freedom and protecting them from tyranny.

4. Loyalty/Betrayal — Being patriotic, self-sacrificing and loyal to one's group, family and nation.

5. Authority/Subversion — Respecting leadership, tradition and legitimate authority.

6. Sanctity/Degradation — Living in an elevated, noble way and avoiding disgusting things, foods and actions.
As the chart suggests, if your wiring causes you to value care and fairness over authority and sanctity, you are a liberal. Vice versa, you are a conservative.
Conservatives and centrists tend to value loyalty much more than liberals, and I've noticed that loyalty comes up a lot in arguments Clinton supporters make for their candidate. It's very important to them to be loyal to the Democratic Party, and they are upset that Sanders is "not a real Democrat" but an independent who caucuses with Democrats. I hear this over and over again. Per Moral Foundations Theory, this pegs them as centrists if not conservatives.
They even argue that closed primaries are a better indicator of who should be nominated, because we shouldn't be allowing independents to choose the Dem nominee.  The notion that we should nominate the candidate with the least appeal to independents rather flies in the face of common sense, to me, but I hear that one all the time.
Note also that Loyalty/betrayal rather quickly segues into Authority/subversion. We're wading pretty deeply into conservative orientation at this point.
To Sanders supporters, this is a stupid argument. Who gives a hoo-haw whether Sanders is a "real Democrat"? The Democratic Party is a big part of the problem, anyway. Again, this is a common orientation for a liberal, who doesn't place a high value on group loyalty for its own sake.
Sanders supporters are quick to accuse the Clinton camp of cheating. Given the messiness of many of the primaries and caucuses, this would be expected of liberals, who place a very high value on fairness and not cheating. They sometimes do go overboard, IMO, such as in the current flap over election, um, irregularities in Arizona. Everything I've read about it traces the problem to some incompetent Republican appointees; I haven't seen anything that connects the problem to the Clinton campaign.
But then there were the PUMAs, die-hard Clinton supporters from 2008, who also charged the Obama campaign of stealing votes from Clinton. They were a fascinating crew. This article is from 2015:
The PUMAs–which, depending on the temperament of the person asked, stood for People United Means Action or, more likely, Party Unity My Ass–were a group of disillusioned, mostly Democratic voters who protested the nomination of then-Senator Barack Obama as the Democratic Party nominee in 2008. In their view, party leadership machinations (remember the "super delegates?") robbed Clinton of the nomination.

In the weeks between Obama surpassing the delegate threshold and his formal nomination at the convention, these PUMAs appeared dozens of times on cable news to defend Clinton and to promise mischief at the nominating convention and in the general election. Their anger epitomized a wider unrest that has been mostly forgotten as Obama went on to win two general elections: In the days before the convention, only 47 percent of Clinton supporters said they were certain to vote for Obama.
I get a kick out of posting this whenever some Clintonista lectures Sanders supporters on how they are stupid if they won't vote for Clinton in November. See above about more than half of Clinton supporters thinking about not voting for Obama. Somehow, he won anyway.
The PUMAs believe they were being cheated, but Obama supporters saw Clinton as the chief cheater. Remember the flap over the Michigan and Florida delegates? If not, see this article from 2008 that explains it pretty well. Very simply, Clinton attempted to skirt rules to claim delegates from Florida and Michigan who were not rightfully hers. Here are more articles touching on this controversy from the Maha Archives from 2008 that are fun to read in retrospect:
"Win, Lose, Draw," January 16, 2008
"Over the Line," January 25, 2008
"Votes on the Votes," May 31, 2008
While the PUMAs believed they were being cheated, they were blind to the outrageous cheating that Clinton herself attempted in order to claim the nomination in 2008. In their own minds, apparently, whatever Hillary Clinton was justified … because why? She was the leader? Kind of a mash-up of Fairness/cheating and Loyalty/betrayal. I'd like to think most Obama supporters would not have been so blind if he had attempted such a thing.  Of course, he did not, so we will never know.
Anyway, I offer the hypothesis that the biggest cause of the divide is that Clinton supporters tend to be centrists and Sanders supporters, for the most part, are genuine lefties. So we're all operating out of entirely different moral foundations. I see a lot of stupidity in both camps; some of the denser Sanders supporters tend to dredge up old, discredited right-wing smears of Clinton, for example, which of course is both stupid and counterproductive.
But it's fascinating to me that Clinton supporters refuse to acknowledge issues from her actual policy speeches and record that ought to give any liberal pause. The AIPAC speech comes to mind, for example. And they won't look at it; they won't acknowledge there might be a problem. Perhaps that would be disloyal.