Let's try to overlook the obvious social-psychological issues and basic stupidity of these people and discuss What This Means for the election itself:
"I am a Trump lady. I love Trump. He's a real man," said Carol Simone, 69. "He's going to make us be good again."

Watching the second presidential debate at Chickie's and Pete's in Bensalem, Pennsylvania, Simone wore two "Trump-Pence" stickers, one on her black vest, another on her straw cowboy hat.

"We desperately need him," she said. "We need him to build a wall to keep Isis out." …

… The crowd got louder as the debate progressed. Whenever Clinton began talking there were boos and jeers and shouts, usually of "Benghazi" or "emails", but sometimes just swear words.

Cruciata, the man who used to do sweaters, was among the most vocal.

At one point Trump said "everything" Clinton had done related to foreign policy had been "a disaster".

"Everything! Everything!" Cruciata shouted. "Even marrying Bill!"

Trump carried on criticizing Clinton.

"You're gonna cry tonight!" Cruciata shouted.

Clinton, responding to Trump on foreign policy, said she would not send American troops to Syria.

"You should go yourself!" Cruciata shouted. "And get killed!"

Smith gave him a high-five.

Finally, Trump and Clinton were let go by the debate moderators. Cruciata, through an impressive range of insults, looked spent. Simone, in her words "a little bit drunk", made for the exit. Smith, after many fist pumps into the air, sounded hoarse.

"He opened a can of whoop-ass on her," he said. He added that he didn't believe in polls, but that Trump may have won some new voters by "sticking to the issues".

I asked Smith what his favourite moment was.

"There were so many," he said. He thought for a second.

"Oh! When he said she should go to jail."
These are highlights from a story in the Guardian about a debate-viewing party in a bar in Bensalem, Pennsylvania. We're basically looking at people who have been marinated in Faux News propaganda for many years, and for them I suspect this debate was a fantasy come true. Here was God Emperor Trump bullying the Demon Queen Hillary and uploading "the whole oppo file on Bill." It must have been like seeing Captain America finally crushing Red Skull.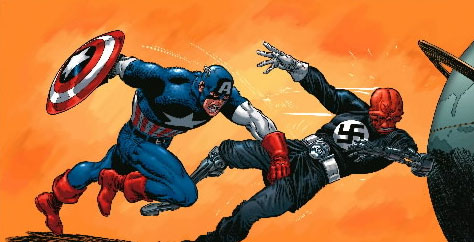 However, I think for most people Trump grossly overplayed his hand. His insistence on remaining behind her in the camera frame so he could loom over her and scowl was just creepy, and I can't imagine it endeared him to anybody who wasn't already in his camp.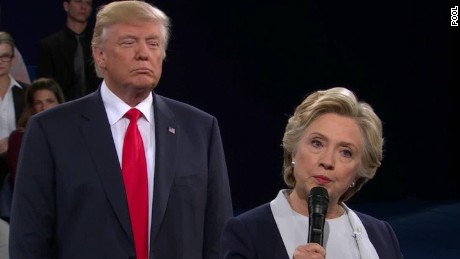 Still, I was a bit surprised that post-debate polls overwhelmingly favored Clinton. I would have expected it to have been even. Clinton didn't own him this time, but was on the defensive. He told lies so fast there was no time to challenge one before he was spewing out the next one.
However, I don't think Clinton made any mistakes. I don't expect this debate to cost her anything, which in effect means she won it. She's ahead; he needed to broaden his support to stay competitive, and I can't imagine he did.
His threat to put Hillary Clinton in jail if he is elected is the most talked-about single moment in the debate today. Right-wing media loved it. In their fevered imaginations they've even added a line he didn't say, that she would fear him as president. Wingnuts loved it. Most people were appalled, because they recognized that this is was dictators do.
Bottom line: The Right's ultimate dream is to make the U.S. a right-wing dictatorship in which the civil liberties guaranteed us by the Constitution they claim to worship could be wiped out on the whims of their God Emperor. They want a Strong Man to come and save them from everything they hate and fear, which is pretty much most of the world. This is what the Republican Party has devolved into.