I've been arguing for months that the Russian hacking story needs to be taken seriously apart from whatever one felt about the election. I've also been saying all along that there's no clear indication that anything the Russians did made any difference, and Clinton probably would have lost anyway.
I'm bringing this up now because I keep running into people who sincerely believe this whole Trump-Russia thing is just something like a false flag operation being run by Clinton supporters in media and government. One of these geniuses just told me James Comey obviously is part of this conspiracy. Um, James Comey? The guy who probably did cost Clinton the election? The whackjobbery is strong with this one.
Clinton supporters do like to bring up the Russian hacks as one of their many excuses for why Clinton's loss was not her fault, but frankly, that's bogus, also. As I've said, there's no clear indication that anything the Russians did cost Clinton the election. There were so many factors that cost Clinton the election that it's just about impossible to point to any one that made any measurable difference — with the possible exception of James Comey's October 28 letter to Congress about Clinton's damn emails. That does seem to have hit Clinton's poll numbers hard.
And at this point, to believe the "false flag" theory one would have to believe that Glenn Greenwald and the crew at The Intercept are Clinton trolls. I don't think so.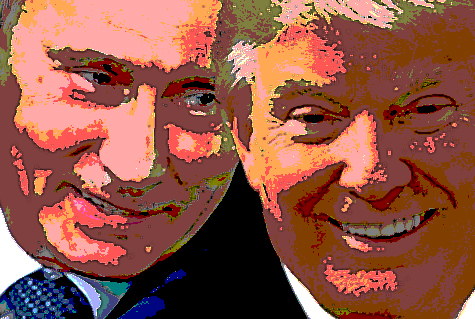 There are five major investigations going on right now into connections between the Trump campaign and Russia — two investigations in the Senate, two in the House, and one being led by special counsel Robert Mueller. Russian interference in the election is only one items on their agenda. They're also looking into the circumstances that led to Michael Flynn's dismissal as national security adviser, any inappropriate connections between Trump campaign and staff and foreign governments, leaks to media, and attempts to impede investigations of all that.
We don't know what all Bob Mueller is doing, but he's still staffing up. This just in —
On the other side of Pennsylvania Avenue, special counsel Robert Mueller has been quietly and methodically building the equivalent of a small US attorney's office — a team of formidable legal minds who've worked on everything from Watergate to Enron, unlikely to leave any stone unturned.
The hires include top criminal prosecutors.  These include Michael Dreeben, considered one of the top criminal prosecutors in the U.S. Mueller is serious, and he has no particular ties to the Clintons that I can find. It may be months yet before we know where he's going with his work.
Aside from the election, it seems just about every part of Trump's real estate business, plus any associates one ever hears about, has ties to Russia. This is particularly critical, since Trump still is making money from that business, and genetically compromised offspring Eric admitted that he shows his father profit reports.  (Today the Washington Post published a story saying that Trump lawyer Marc E. Kasowitz has ties to Russia, for pity's sake. )
Eric Trump said in an interview aired early Tuesday that sharing profit reports with his father "doesn't blur the lines" in separating the family business from President Trump's administration.

"You're allowed to show that and remember the president of the United States has zero conflicts of interest," Eric Trump told ABC's "Good Morning America." Zero."
Some of those profits may be from money laundering for the Russians. Trump is extremely vulnerable to abuse-of-office and corruption charges, whether he realizes it or not. And then there are the many associates, such as his out-of-his-depth son-in-law Jared Kushner, who might as well have an "R" for rotten stamped into his forehead.
So, yeah, this is a big deal, and it's a big deal that has nearly nothing to do with Hillary Clinton.