Last night a couple of right-wing loons tried to shut down the performance of Julius Caesar in Central Park. I found a photo of one of them and annotated it: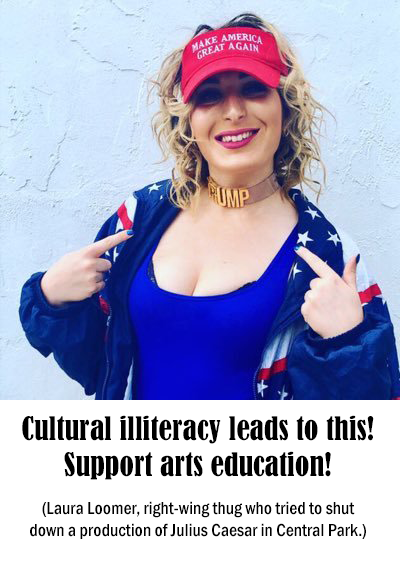 You are welcome to use the image wherever. See the New York Times and Washington Post on what went down. I already wrote the New York Times:
Regarding "Two Protesters Disrupt "Julius Caesar" in Central Park" (June 17) — The alleged disruptors are guilty of massive cultural illiteracy, since Shakespeare's Julius Caesar is a warning against violence, not a celebration of regicide. They should be required to watch or read the play and write essays explaining what it's about. Failing that, they could be sentenced to wearing dunce caps and writing "I will stop being a culturally illiterate twit" on a blackboard ten thousand times. And put a film of that on social media, please.
See also:
Anti @PublicTheaterNY demonstrators at Trumpish "Julius Caesar" outnumbered by pro @PublicTheaterNY counter-demonstrators pic.twitter.com/0ehfVu4jUl

— Michael Cooper (@coopnytimes) June 16, 2017