Let's review:
We still don't know exactly who leaked the revelation that Cohen can testify that Trump knew about the 2016 Trump Tower meeting in advance, and why. There are all kinds of theories, including one that it came from Trump's camp to take away Cohen's biggest bargaining chip and/or diffuse the impact of what would inevitably come out, anyway.
Jonathan Chait writes that at least two other people had previously said Trump knew about the meeting in advance. Former Trump aide Sam Nunberg told Jake Tapper in an interview last March that Trump had been told. Also,
Steve Bannon has said the same thing. ("The chance that Don. Jr did not walk these Jumos up to his father's office on the 26th floor is zero.") This is obvious. In a loosely structured campaign, with people coming in and out of Trump's office at will, and all of them desperately vying for the boss's approval, the notion that they could set up what they believed to be a meeting that would deliver devastating dirt on Crooked Hillary and not tell Trump what they had done is preposterous.
See also Josh Marshall:
Two days before the Trump Tower meeting, on June 7th 2016, President Trump made a statement teasing a big speech with new dirt about Hillary Clinton that he said would probably happen on June 13th.

You can video of that statement here.

The speech never happened. It was supposedly delayed because of the Pulse Night Club massacre on June 12th. But it was never rescheduled. There was a different speech. But it seemed clearly not to be the one he promised on June 7th.
So, yeah, he knew about the meeting; he green-lighted the meeting; he was all in on colluding with Russia to get dirt on Hillary Clinton. That's beyond doubt at this point.
Then there's what happened in the aftermath of the Times stories breaking the news about the Trump Tower meeting that were published just over a year ago. Mueller's investigators have focused closely on the fact that President Trump dictated a statement which was released in the name of his son Don Jr. about the meeting. It was a false cover story which quickly fell apart. He claimed it was about adoptions. How did he know about it? Well, it seems that he knew about it in advance. But there's another thread to the story.

Trump dictated that false statement, with the cover story about adoptions only hours after he had a one on one meeting with Vladimir Putin (with no other US persons involved) which was apparently also about adoptions. As I explain here, if you put all this information together, there's a pretty strong case to be made that not only did President Trump know about the Trump Tower meeting in advance but that he concocted his false cover story with the assistance of Vladimir Putin. See the details here.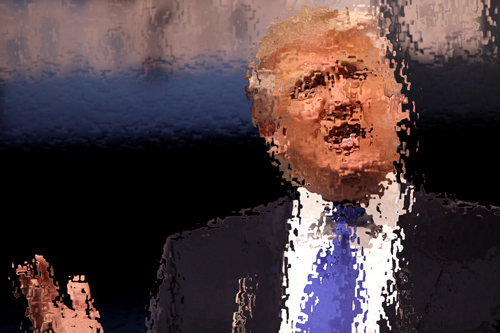 After that ghastly spectacle in Helsinki, who can doubt that Trump is Putin's poodle? Other than hard-core Trump cultists? Speaking of which,
Donald Trump's historic unpopularity has yet to harden into conventional wisdom, even as he's trailed previous presidents in job approval at nearly every point in his administration. Instead, mainstream pundits and reporters focus on his relatively high marks with Republican voters, convinced that this gives insight into his political standing.
But, as centrist Democrats keep reminding us, it's those swing voters you have to persuade. You might remember that the day after the 2016 election, the New York Times ran an analysis showing that Clinton truly lost in the election in the rust belt:
A whole lot of what had been considered reliable Democratic precincts went to Trump in 2016. The latest polls show us that support for Trump has eroded in those same areas, big-time.
In Michigan, where Trump won by 11,000 votes, 54 percent of registered voters disapprove of his performance, compared to 36 percent who approve. In Minnesota, where he narrowly lost, 51 percent currently disapprove, compared to 38 percent who approve. And in Wisconsin, a state he won by 23,000 votes, 52 percent disapprove, compared to 36 who approve.

By wide margins, voters in these states want a Democratic Congress. They want that Congress to act as a "check and balance" on Trump. Despite the growing economy, few give him credit for economic improvement, and looking ahead to 2020, nearly two-thirds in each state say it's time to "give a new person a chance" in the White House.
The hard Trump support is unwavering. But the "soft" support, the voters who maybe weren't crazy about him but were even less crazy about Hillary Clinton, are getting over Trump now. Unfortunately, major news media still play along with a meta message that Trump is wildly popular with his base and is therefore untouchable.
But let's now review what else we knew, as of yesterday.
One, Bob Mueller is still investigating. We don't know what he knows.
Two, the Southern District of New York has subpoenaed Allen Weisselberg, who has managed money for the Trump organization since Donald's daddy was in charge of it. Weisselberg probably knows more about Trump's money and where it came from than Trump does.
Three, the emoluments lawsuit is going forward, as of now, and unless Trump's lawyers can stop it will almost certainly lead to more revelations about Trump's money.
Four, the New York Attorney General also recently filed suit against the Donald Trump Foundation, "accusing the charity and the Trump family of sweeping violations of campaign finance laws, self-dealing and illegal coordination with the presidential campaign."
Meanwhile, Dems are looking pretty good to take back the House in the midterms, at least.
Even through it feels as if these things are happening with excruciating slowness, they are happening. I predict that from here on out, events and revelations will slowly but surely grind Trump to bits.
Update: See also the Putin Factor. This opinion piece argues that the Russians will not hesitate to finish Trump off by releasing whatever it is they have on him if they decide he is no longer useful.