Nov 17, 2018
Trump Maladministration
The Creature is on his way to California, supposedly to meet with firefighters and first responders. If past trips to disaster areas are any indication, he'll be safely away from the effects of the fire and anyone suffering from them, so he might as well have stayed on the East Coast somewhere.
It's not just the fire; it's the toxic particulates in the smoke that can do a lot of harm.
More than a thousand people are missing.
Dana Milbank, While Trump feasts on Thanksgiving, troops on the border eat rations and await Pancho Villa:
Since the election, Trump has forgotten about the mortal peril posed by the caravan "invasion" — he has mentioned the "caravan" only once, and only when asked — but the troops he ordered to act in this political advertisement can't forget. They will remain on the border through Thanksgiving, the New York Times reported, eating MRE rations, living in tents without electricity, receiving neither combat pay nor hostile-fire pay. …

…Mattis tried another way to give meaning to the troops' aimless mission on the border. "I would put this in a little historic context," he told reporters on Wednesday. "I think many of you are aware that President Wilson 100 years ago, a little over 100 years ago, deployed the U.S. Army to the southwest border. . . . The threat then was Pancho Villa's troops, a revolutionary raiding across the border into the United States."
So, troops, if you see this guy, do spring into action.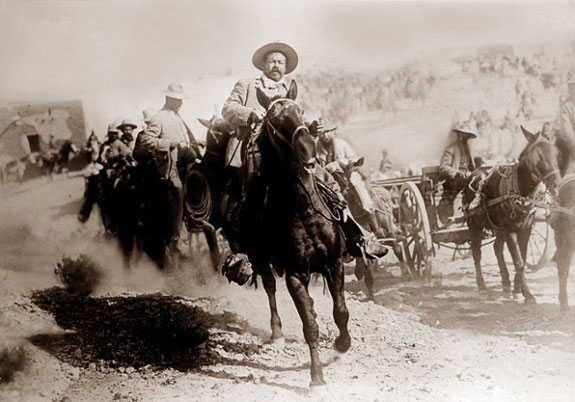 Now, that was a caravan. They don't make 'em like that any more.
The CIA has concluded that Saudi Crown Prince Mohammed bin Salman ordered the assassination of journalist Jamal Khashoggi. Like most of us hadn't figured that out. The Creature promptly said that Saudi Arabia is a "spectacular ally."
Times may be bad, but at least it's not 536 any more.