Just hours after the so-called president dropped an unsubtle threat of violence against his political enemies, a right-wing terrorist attack took the lives of (so far) 49 people in New Zealand. The shooter was a right-wing white nationalist/supremacist. C.J. Werleman writes in the Sydney Morning Herald that the killer's social media profile "reads as the sum total of every counter-terrorism practitioner's and academic's fear, one that law-enforcement agencies throughout the Western hemisphere have long warned to be the No. 1 terror threat: right-wing extremism."
Tried to warn,anyway. Here in the U.S., in 2009 political pressure from "conservatives" squelched a report issued by the Department of Homeland Security to federal, state and local law enforcement regarding the threat of terrorism from right-wing extremists groups. See The Terrorists Among Us (November 2018) and Malkin et al. Admit That "Conservatives" Are Right-Wing Extremists and Potential Terrorists (April 2009).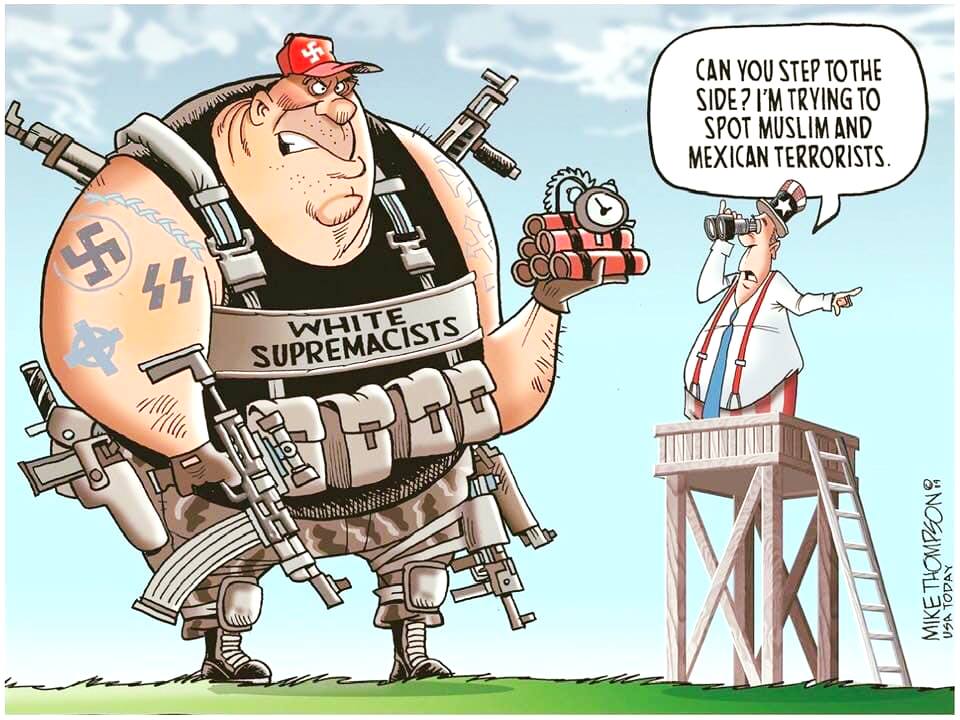 Back to Werleman:
More specifically, Tarrant represents the dangerous convergence between broken white men and extreme right-wing media, bearing in mind that 100 per cent of all terrorist attacks carried out on US soil in 2018 were carried out by right-wing extremists, with the Southern Poverty Law Centre crediting a "toxic combination of political polarisation, anti-immigrant sentiment and modern technologies that help spread propaganda online".
This particular shooter was streaming a live video of the massacre as it happened and had uploaded a 74-page manifesto explaining his motivation. Josh Marshall:
This shooter is someone who is immersed in the great arc of anti-immigrant, racist hyper-nationalist discourse and paramilitary violence ranging from the rightist parties of Europe, various mass murderers like Norwegian terrorist Anders Breivik to the white supremacist and neo-Nazi subculturewe have come to know so well in the US. Charlottesville, Pittsburgh, Charleston. Dylann Roof's massacre gets explicit reference as an inspiration and antecedent for this massacre.
Josh Marshall goes on to say that a thread running through white nationalist terrorism around the globe is an obsession with being replaced by minorities.
The ringleader of a deadly terrorist attack on two New Zealand mosques left a 74-page manifesto explaining their rationale for going on a murder spree that has so far caused 49 deaths and many more serious injuries. In that manifesto, the author explains "that he supported President Donald Trump as a 'symbol of renewed white identity and common purpose' but not as a 'policy maker.'" The overall tenor of the manifesto is a familiar argument about immigration causing a "white genocide."
I've written about the confluence of white entitlement and right-wing politics a lot over the years, such as in this post from about a year ago. Individuals who get sucked into right-wing extremism tend to be people with a fanatical grievance — they aren't getting something to which they believe they are entitled — who somehow find empowerment in nationalist symbolism and some authority figure who articulates their anger. Such people are dangerous. I don't have anything new to add.
I will give the last word to Waheed Aly, speaking on Australian television.
"You'll have to forgive me, these won't be my best words…"

On this heartbreaking day, Waleed reflects and calls for unity. #TheProjectTV pic.twitter.com/mIOI0eGamb

— The Project (@theprojecttv) March 15, 2019
A postscript — the ever brilliant Louie Gohmert thinks that such violence is so unnecessary and can be corrected with more death. (H/t Oliver Willis).
"There are courts, dispute resolutions, and legislatures to resolve controversies – there is no place for cold blooded murders. Though New Zealand does not have the death penalty, hopefully its people, through their justice system, will send the message loudly and clearly that such barbarity from anyone will not be tolerated," he wrote.
Well, at least Louie didn't claim the shooter wasn't mentally ill.