It's fascinating that in what might be his moment of greatest triumph, the Creature managed to step in some slop. On Monday, Trump's Justice Department asked the U.S. Court of Appeals for the 5th Circuit in New Orleans to nullify the entire Affordable Care Act.
After the spanking they got in the midterms, Republicans in Congress had decided to drop their objections to Obamacare and move on to other issues, like blaming climate change on velociraptors, or whatever it was this moron was going on about.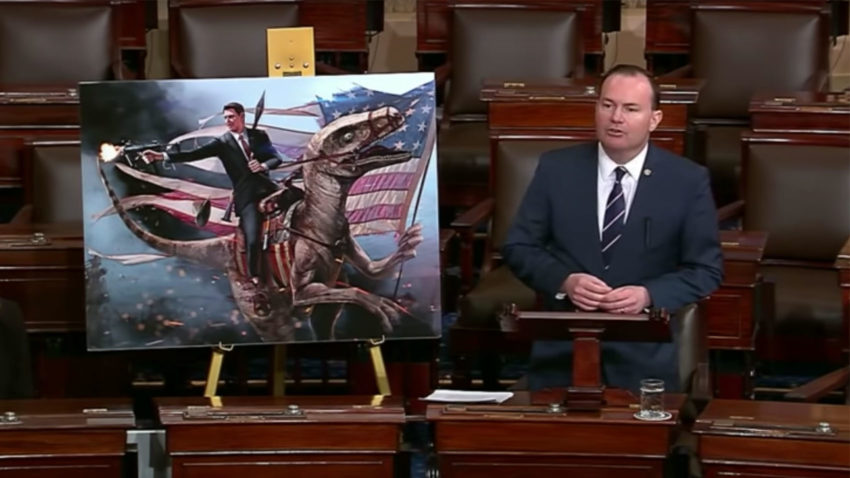 But Trump's Justice Department not only dragged the Republican Party back to the health care drawing board; but the so-called president is back to making promises his party can't keep.
President Trump praised the move during a lunch with Senate Republicans, and suggested the GOP should embrace a new congressional battle over health-care policy ahead of the 2020 elections.

"Let me tell you exactly what my message is: The Republican Party will soon be known as the party of health care," he told reporters before the lunch. "You watch."
In other words, Trump is an effing moron. The Republicans have no workable plan to replace Obamacare and never will. If they could do it, they would have done it by now. Note that it has been estimated that 21 million Americans would lose health coverage if the ACA is struck down.
It's widely reported that Republicans are furious with Trump for putting them back into the same position that got them roasted in the midterms. And this report from Axios makes it clear that the decision to make repealing Obamacare a major issue for 2020 came from the White House, not the Justice Department.
As Politico's Eliana Johnson first reported — and Axios has confirmed — "The Trump administration's surprising move to invalidate Obamacare on Monday came despite the opposition of two key Cabinet secretaries: Health and Human Services Secretary Alex Azar and Attorney General William Barr."

Republican officials are privately blaming Trump's chief of staff Mick Mulvaney, domestic policy chief Joe Grogan, and acting director of the Office of Management and Budget Russ Vought for engineering the new position. …

…Several Republican senators told Axios they were surprised Trump spent most of the Senate GOP lunch on Tuesday on health care. Trump led with health care and went back to it several times during the meeting. "He's clearly very passionate about it," Sen. John Kennedy said. "It was one of few times at these things the president spoke more than the senators."
Trump wants to do this. But why? I get the impression that the failure to repeal the ACA in 2017 still gnaws at him. It's reportedly the reason he can't stop bashing six-months-dead John McCain. John McCain's vote kept Trump from fulfilling a campaign promise, it's said. But even that's bogus, because Trump's campaign promise was to replace the ACA with something better, not to deprive 20 million people of health coverage.
And, of course, that didn't happen. And Trump has no clue how this health care thing works.
Trump may be going through this as a theoretical exercise merely to please his base. After all, the Supreme Court has already ruled twice that the key parts of the ACA are constitutional.

But it may also be that Trump believes that the hardball tactic will somehow bring Democrats to the negotiating table. If that is the case, he is making the same miscalculation he did when he shut down the government on the assumption that it would give him leverage to get the money he wanted to build his border wall.
The old dog has a pathological inability to learn new tricks. And he still refuses to listen to those trying to dissuade him from boneheaded plans. WaPo reports today:
House Minority Leader Kevin McCarthy (R-Calif.) urged President Trump to hold off on pushing for a court-ordered destruction of the Affordable Care Act, advice the president ultimately ignored, according to a senior Republican official familiar with the conversation.

The unheeded counsel, which McCarthy recounted to fellow lawmakers in recent days, underscores the angst that has set in among Republicans now that Trump is pursuing the politically precarious strategy with no plan in hand to replace Barack Obama's signature health-care law.

McCarthy has complained privately to donors that the GOP attempt to gut Obamacare — including its most popular provisions, such as protections for preexisting conditions — was the main reason the party lost at least House 40 seats in last year's midterm elections.
See Greg Sargent, Republicans blast Trump for making it harder for them to lie about health care.
Oh, and as for Mike Lee and his velociraptors, I like what Rep. Alexandria Ocasio-Cortez said about him.
Like many other women + working people, I occasionally suffer from impostor syndrome: those small moments, especially on hard days, where you wonder if the haters are right.

But then they do things like this to clear it right up.

If this guy can be Senator, you can do anything. https://t.co/vU4ChbTnnr

— Alexandria Ocasio-Cortez (@AOC) March 26, 2019