I'm trying to wrap my head around SCOTUS rulings today. Adam Liptak at the New York Times explains the Trump financial records rulings:
The Supreme Court on Thursday cleared the way for prosecutors in New York to see President Trump's financial records, a stunning defeat for Mr. Trump but a decision that probably means the records will be shielded from public scrutiny under grand jury secrecy rules until after the election, and perhaps indefinitely.

In a separate decision, the court ruled that Congress could not, at least for now, see many of the same records. The vote in both cases was 7 to 2. Chief Justice John G. Roberts Jr. wrote both majority opinions.

The court's decision in favor of the New York prosecutors was a major statement on the scope and limits of presidential power, one that will take its place with landmark rulings that required President Richard M. Nixon to turn over tapes of Oval Office conversations and forced President Bill Clinton to provide evidence in a sexual harassment suit.

In the case concerning the prosecutors' subpoena, Chief Justice Roberts wrote that "no citizen, not even the president, is categorically above the common duty to produce evidence when called upon in a criminal proceeding." He added that Mr. Trump may still raise objections to the scope and relevance of the subpoena.
The two holdouts were Alito and Thomas. We probably won't see the records before the election, but I trust the New York prosecutors will not hesitate to go forward and nail the bleeper next year.
Note that the Big Baby is having a meltdown now:
POLITICAL WITCH HUNT!

— Donald J. Trump (@realDonaldTrump) July 9, 2020
We have a totally corrupt previous Administration, including a President and Vice President who spied on my campaign, AND GOT CAUGHT…and nothing happens to them. This crime was taking place even before my election, everyone knows it, and yet all are frozen stiff with fear….

— Donald J. Trump (@realDonaldTrump) July 9, 2020
…Won all against the Federal Government and the Democrats send everything to politically corrupt New York, which is falling apart with everyone leaving, to give it a second, third and fourth try. Now the Supreme Court gives a delay ruling that they would never have given…

— Donald J. Trump (@realDonaldTrump) July 9, 2020
….for another President. This is about PROSECUTORIAL MISCONDUCT. We catch the other side SPYING on my campaign, the biggest political crime and scandal in U.S. history, and NOTHING HAPPENS. But despite this, I have done more than any President in history in first 3 1/2 years!

— Donald J. Trump (@realDonaldTrump) July 9, 2020
Courts in the past have given "broad deference". BUT NOT ME!

— Donald J. Trump (@realDonaldTrump) July 9, 2020
The Supreme Court sends case back to Lower Court, arguments to continue. This is all a political prosecution. I won the Mueller Witch Hunt, and others, and now I have to keep fighting in a politically corrupt New York. Not fair to this Presidency or Administration!

— Donald J. Trump (@realDonaldTrump) July 9, 2020
PRESIDENTIAL HARASSMENT!

— Donald J. Trump (@realDonaldTrump) July 9, 2020
What can one say, but …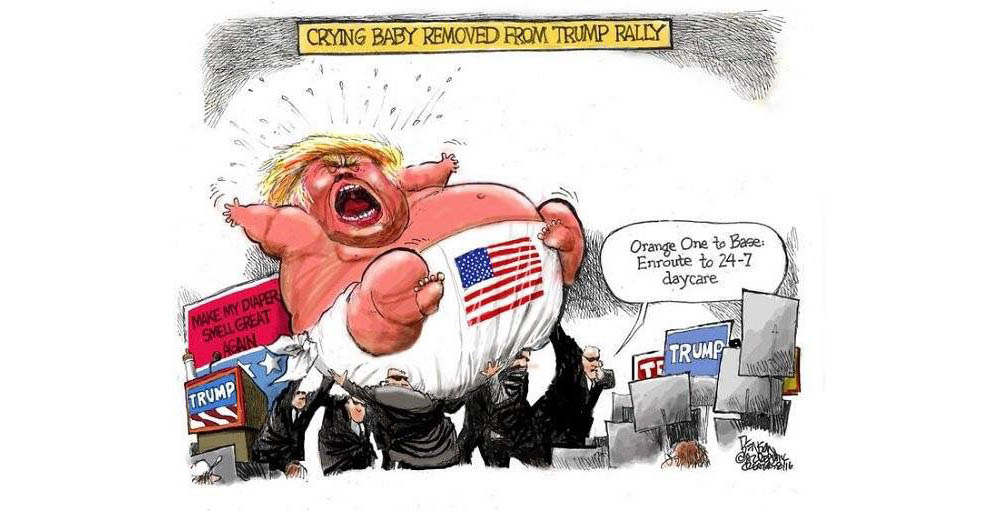 Here's another explanation of the rulings, from Mark Joseph Stern at Slate:
The Supreme Court managed to pull off a seemingly impossible balancing act on Thursday: It denied President Donald Trump the sweeping immunity from oversight he demanded while also shielding Trump from oversight before the November election. In Trump v. Vance, the court cleared the way for a New York grand jury to subpoena the president's tax returns … eventually. In Trump v. Mazars, the court upheld Congress' authority to investigate the president but stymied (at least for now) its current efforts to do just that. With these two decisions, the Supreme Court—and, specifically, Chief Justice John Roberts—has dealt a blow to Trump's alarming view of unbridled executive power. Yet it has also protected this particular executive from immediate scrutiny.

Vance and Mazars are different cases that ask a similar question: Is the president above the law while he is in office? Or must his executive authority yield to other compelling interests? In both cases the Supreme Court declared that, no, the president cannot exploit his constitutional powers to insulate himself from all oversight. This ruling is a major blow to Trump, and very good news for the fundamental democratic proposition that the president is not a king. But the court went on to give Trump a temporary victory by sending both cases back down to the lower courts for further assessments. In Vance, this move is probably just a hiccup on the way to a final order sending Trump's tax returns to a New York grand jury. In Mazars, however, the court's compromise could functionally kill the House of Representatives' efforts to get its hands on Trump's financial records.
Aaron Burr made the news today, and not the entertainment section. Jennifer Rubin:
In Vance, Chief Justice John G. Roberts Jr. — writing for a 7-to-2 majority — held that the president not only lacks immunity from a state criminal investigation but also enjoys no special, heightened standard of proof. Roberts recounted the history of the trial of Aaron Burr and then-Chief Justice John Marshall's ruling that President Thomas Jefferson was not immune from a subpoena for records. "In the two centuries since the Burr trial, successive Presidents have accepted Marshall's ruling that the Chief Executive is subject to subpoena," Roberts wrote. He also cited U.S. v. Nixon, which held that "the President's 'generalized assertion of privilege must yield to the demonstrated, specific need for evidence in a pending criminal trial.'" While these cases involved federal subpoenas, Roberts held that state subpoenas are no different. Rejecting the notion of absolute immunity, Roberts found that "we cannot conclude that absolute immunity is necessary or appropriate under Article II or the Supremacy Clause." (On this, he points out there was unanimous agreement in the court.)
So while it's disappointing the records won't be released  before the election, it could have been worse.
In another significant ruling I didn't see coming, the Court ruled that about half of Oklahoma is rightfully a reservation under the jurisdiction of the Muscogee (Creek), Cherokee, Chickasaw, Choctaw, and Seminole Nations.
The Supreme Court on Thursday ruled that nearly half of Oklahoma falls within an Indian reservation, a decision that could reshape the criminal-justice system by preventing state authorities from prosecuting offenses there that involve Native Americans.

The 5-to-4 decision, potentially one of the most consequential legal victories for Native Americans in decades, could have far-reaching implications for the 1.8 million people who live across what is now deemed "Indian Country" by the high court. The lands include much of Tulsa, Oklahoma's second-biggest city.
The swing vote this time was Gorsuch, siding with the four liberals.
"Today we are asked whether the land these treaties promised remains an Indian reservation for purposes of federal criminal law," Justice Gorsuch wrote. "Because Congress has not said otherwise, we hold the government to its word."
I suspect it's going to take some time for people to figure out how this is going to work. But treaties are treaties.