One of the cases SCOTUS heard this week is Kennedy v. Bremerton School District, which according to SCOTUSblog is about "(1) Whether a public-school employee who says a brief, quiet prayer by himself while at school and visible to students is engaged in government speech that lacks any First Amendment protection; and (2) whether, assuming that such religious expression is private and protected by the free speech and free exercise clauses, the establishment clause nevertheless compels public schools to prohibit it."
However, according to Mark Joseph Stern at Slate, this case is based on is built on "a series of brazen lies designed to depict the plaintiff, Coach Joe Kennedy, as a victim of anti-Christian discrimination—and to erase the students whom he coerced into prayer."
The plaintiff's lawyers insist that he was fired from his job as a football coach for engaging in "quiet, private prayer" at the 50-yard line after games. The extensive record developed in the district court tells a different story. It demonstrates that Kennedy formed prayer circles with team members after each game, leading the students in audible Christian prayer while in the midst of his formal duties. When the school district asked him to pray privately instead, he claimed he had been persecuted for his religious exercise.

Kennedy hired far-right lawyers who threatened legal action against the school district, transforming the postgame ritual into a media spectacle. Eventually, students began racing onto the field to join the prayer circle, creating a 500-person stampede that injured multiple people. Put simply, there was nothing "quiet" or "private" about Kennedy's proselytization. (Also, he wasn't fired; he was placed on paid leave.)
Yeah, that's way different. Stern goes on to quote a number of former football players who say they did feel coerced into joining the prayers, and the prayers made them uncomfortable and did not reflect their personal religious views. And that, children, is a violation of the establishment clause on its face. Lower courts hearing this case sided with the school.
A number of news stories about this case take the coach's version of facts at face value, and the facts are essential to understanding if the First Amendment is violated or not. The establishment clause of the First Amendment forbids Congress (and through the Fourteenth Amendment, state and local government also) from "establishment of" religion, which means recognizing an official state religion or favoring one religion over another. The establishment clause does not forbid acts of religious expression on public school or other government property; it forbids the government itself, or its elected officials or employees, from using the power of government to promote religion or coerce people into taking part in religion if they don't want to.
It's important to understand that these "religious freedom" cases often are not really about protecting the free exercise of religion against secular, anti-religion oppressors. They are about whether one particular religious tradition can get away with special privileges over other religious people and the non-religious. Back to Mark Joseph Stern:
One member of the football team during Kennedy's tenure, who came forward under a pseudonym for fear of retaliation, attested that he refused to bow his head because Kennedy's prayers did not align with his own beliefs. He was then "persecuted" for failing to conform, treated poorly by the coaches and permitted to play only because of his talent on the field. The experience still haunts him, as well as others who felt queasy about the indoctrination they faced at school. These players, the student said, "would rather forget about that time of their life."
There was another case involving prayers and football games back in 2000, which was Santa Fe Independent School District v. Doe. In that case, the school district had a long-standing practice of having a student deliver a prayer on the school's public address system before every football game. The student delivering the prayer was chosen by vote of the student body. The suit seeking to stop the prayers was not brought by atheists but by Catholic and Mormon parents who objected to the content of the prayers and didn't want to feel coerced into taking part in them. The nature of the parent's objections was rarely reported accurately in news stories, as I remember, and Christian conservatives who were not Catholic or Mormon persisted in calling the decision to stop the prayers anti-Christian and anti-religion.
The school district argued that the nature of the prayer and the person delivering it were chosen by vote of the students, not the school, so that made it okay. But as Justice Stevens said, "this student election does nothing to protect minority views but rather places the students who hold such views at the mercy of the majority." In other words, it didn't protect an individual's right to not be coerced into religious expression. The Court held (6-3) that individuals on school property can pray all they want to, but a prayer mandated by the school district and delivered over the school's public address system at a school event made it the school's religious expression, which was out of bounds. The election mechanism didn't magically turn the school's speech into private speech.
BTW, the three dissenters in the Santa Fe case were Renquist, Scalia, and Thomas. And we've still got Thomas.
See also my post from 2006 about what happens when an evangelical family goes to a public high school football game and must sit through a pre-game invocation that is not Christian at all, but Buddhist. Hilarity ensues.
Coercion is not necessarily an explicit thing. Children of minority religions, or no religion, can be subjected to all kinds of peer pressure and bullying by children of the majority religion, even if the school itself is trying to not be coercive.
But then there's the current Court, which is expected to side with the coach. At Harvard Law Today, law professor Sanford Levinson basically says this is not a case that past courts would have bothered with.
So, why in the world did the Supreme Court take this case? I think it's because there are now at least four justices — that's all it takes for the Court to take a case — who are active soldiers in the culture wars and who are on the side of anybody with a religious claim against the secular authorities. My hunch is that there are five justices — and maybe six, with Chief Justice Roberts — who will accept some version of the coach's story and say that he wins. And this will be billed in some circles as yet another way that the Supreme Court is protecting us, that is, religious believers, against their secular oppressors.
In other words, a decision in favor of the coach won't be a decision based on the Constitution and precedent, but on the biases of the majority of the justices. And then expect most public schools in the South and Midwest, and probably other places, to start reading explicitly evangelical prayers over the loudspeakers at football games again. Give these people an inch, and they'll take ten thousand miles.
See also The GOP Is No Longer a Party. It's a Movement to Impose White Christian Nationalism by Jennifer Rubin at WaPo. "Our political problems are significant, but they are minor compared with the moral confusion that is afflicting the millions of White Christian Americans who consider themselves victims," she says.
And see Prayer on the Field Should Not Be a Problem from an Islamic website called Ummah Sports. The person who wrote this doesn't quite grasp the Constitutional issues and the distinction between private and government speech. But he includes this photo of Algerian soccer players at the 2014 World Cup: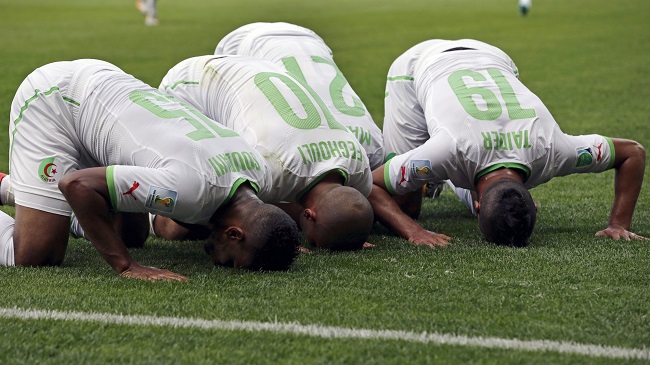 This is lovely, but one suspects a lot of American evangelicals would disagree.