Lately I've been collecting stupid headlines. Here's one.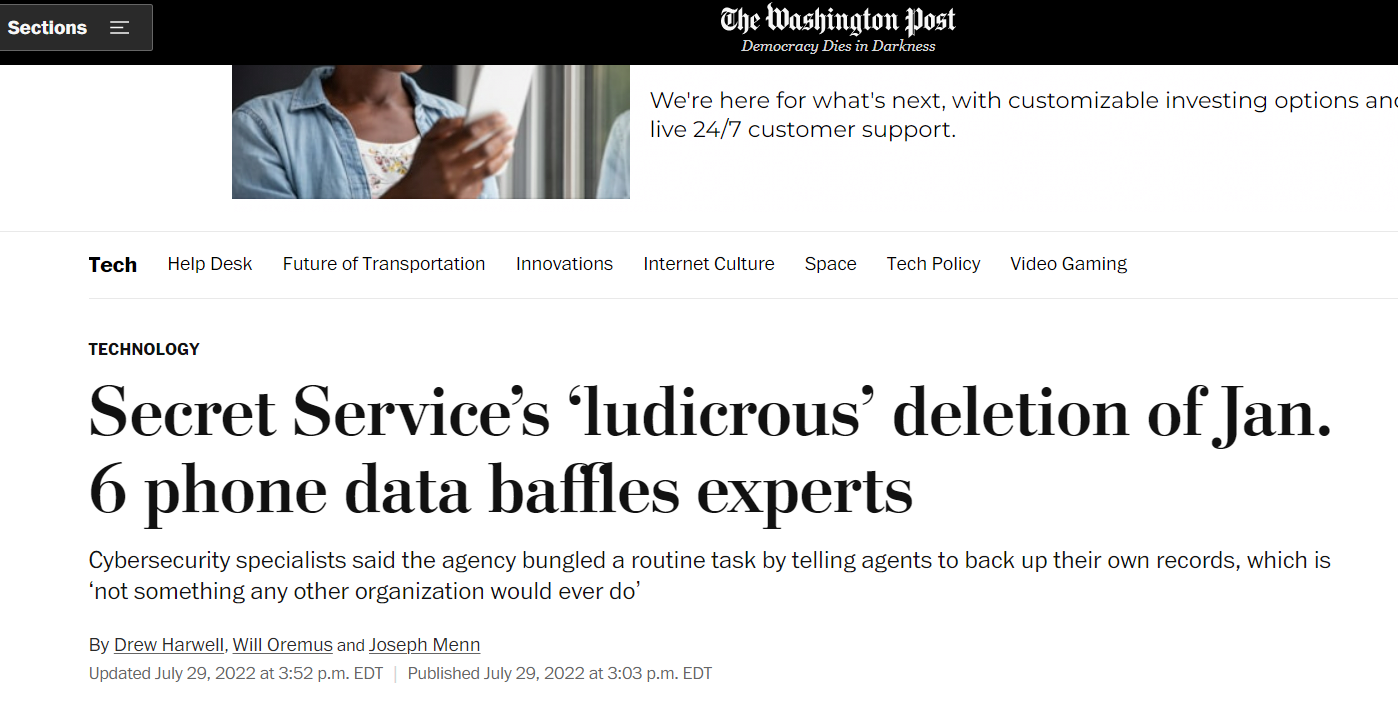 Baffles? There's nothing baffling about any of this. Obviously somebody didn't want something to be preserved.
Now we're learning that the current Inspector General of the Department of Homeland Security started to collect phones earlier this year and try to recover the deleted texts, or at least try to understand what happened to them, and then just a few days later shut the investigation down. This was in the Washington Post yesterday:
But later that month, Cuffari's office decided it would not collect or review any agency phones, according to three people briefed on the decision.
Now CNN is reporting that Cuffari had known about the missing text messages since May 2021. Democrats in Congress are calling for Cuffari to recuse himself from further involvement in the investigation into the missing text messages.
Joseph V. Cuffari was nominated to be the DHS Inspector General by Donald Trump and was confirmed by the Senate on January 2019. The previous inspector general was an acting IG, never confirmed, named John V. Kelley, who served from 2017 to 2019. Kelly announced his resignation in June 2019 "following revelations that he directed his staff to whitewash audits of the agency's performance after federal disasters," it says here.
Prior to being the acting DHS IG, Kelly was part of the Emergency Management auditing staff.
Kelly's announcement follows The Post's report last week that an internal review found that Kelly overrode auditors who had found problems with the Federal Emergency Management Agency's response to various disasters.
When teams of auditors flew to local communities to assess how well FEMA was helping residents recover, Kelly — then in charge of the emergency management auditing staff — directed them to ignore most problems, according to the internal review and interviews. Instead, he told them to produce what the staff dubbed "feel-good reports."
These records went back to 2011, I understand.
The guy who served in the DHS IG position in the latter part of the Obama Administration, John Roth, quickly ran afoul of the Trump Admiistration over the Muslim travel ban fiasco. Roth wrote a report saying that the Trump Administration's Muslim travel ban was a chaotic mess that violated two court orders. The report was blocked from release by somebody, apparently acting for Trump. Roth notified some Senators about the report. Roth also decided to resign in 2017. Eventually in 2018 the DHS released a heavily redacted version of Roth's report. This statement from Rep. Bennie Thompson points some fingers at the actiing IG, John Kelly. I still haven't found out if the full and unredacted report was ever released.
But let's assume there hasn't been an honest IG in that position since Roth resigned in 2017.
Regarding other stupid headlines I've collected recently, this one is my favorite: