I wrote a post a couple of years ago that says pretty much everything I want to say about the police videos showing the death of Tyre Nichols. This is from Law Enforcement: This Is Not Working:
Videos of the police encounters with Lt. Caron Nazario in Virginia and Daunte Wright in Minnesota have been viral for the past several hours. After watching these, I'd like to suggest that we fire every cop in America and start over.

It's beyond obvious that what went wrong in these encounters — as well as with George Floyd in Michigan, Maurice Gordon in New Jersey, Sandra Bland in Texas, Elijah McClain in Colorado, Breonna Taylor in Kentucky, Philando Castile in Minnesota (again), and so many others — is that police officers unnecessarily took what should have been routine, low-tension situations and escalated them into life-and-death struggles.

Of those mentioned above, only Lt. Nazario survived. This is because he was admirably disciplined and kept his head, but it should be police who are disciplined and keep their heads. Instead, in videos more often than not you see shouting and screaming and foaming-at-the-mouth hysteria on the part of the cops. Are they not trained to de-escalate tension rather than ramp it up? Apparently not.
Except, according to several news stories, since 2020 Memphis police have been required to have de-escalation training. Apparently, it didn't work.
The fact that the five officers charged in Nichols's death are themselves African American tragically illustrates a point that the Black Lives Matter movement has been trying to make all along: The race of the perpetrators in these police killings sometimes matters, but the race of the victims always matters. Too many officers of all races and ethnicities, imbued with a culture of us vs. them, do not see a Black man who has a broken taillight or makes an illegal U-turn as a citizen who made a mistake. They see him as a threat to police dominance and control — and therefore as someone who must be subdued, humiliated, cowed, put in his place.

That is what the slogan "no justice, no peace" means to me, and why the issue of unwarranted police violence against African Americans will not go away until the "warrior" culture of police departments — not in the suites, but in the streets — finally is made to change.
The problem, I keep reading, is that police academies use a military-style approach to training —
"There is something about policing itself that makes it very difficult and resistant to reform, that makes things like implicit bias training and de-escalation training something of a dead-end," said Brendan McQuade, an assistant professor of criminology at the University of Southern Maine who favors police abolition. "The problems are so entrenched. They say a few bad apples rot the barrel. The policing barrel is so rotten it's mush, it's totally toxic, it's fermented … dump it out and start again."
Police abolition not being practical, in the short term there simply has to be bigger and faster consequences for any cop who is caught using excessive force. And a lot of people are asking why routine traffic stops have to happen at all. Unless the motorist is doing something dangerous, police could issue tickets based on car licenses and put them in the mail. We've been talking about this for at least a couple of years.
Speaking of videos — yesterday video of the assault on Paul Pelosi was released also. It's beyond obvious in this video that Paul Pelosi was in danger, knew he was in danger, but was (sensibly) behaving very calmly and choosing his words carefully to not cause the assailant, David DePape, to lose control and attack him. Which he eventually did anyway. At Vanity Fair, Bess Levin reminds us,
Tucker Carlsonfueled conspiracy theories that Paul Pelosi and his attacker, David DePape, were lovers. Elon Musk, who'd become the owner of Twitter just three days prior, shared a story with his 112 million followers from a website known to traffic in false information, that the man was a prostitute with whom Pelosi had gotten into a dispute. (He later deleted the tweet but not before writing, "There is a tiny possibility there might be more to this story than meets the eye.") Donald Trump Jr.retweeted a "Paul Pelosi" Halloween costume made up of simply underwear and hammer, writing: "The internet remains undefeated." Representative Claudia Tenneycommented "LOL" on a photo of a group of men holding hammers beside a gay pride flag, before deleting the tweet. Charlie Kirk, the conservative YouTube host, said on his podcast he hoped an "amazing patriot" would go bail out DePape, "ask him some questions," and become a "midterm hero."

On Thursday, Fox News host Sean Hannity had a guest on his show who speculated that set-to-be-released footage of the attack would "not help the prosecution" and raise "more questions than it answers."

On Friday, footage of the attack was released. In addition to being deeply difficult to watch—viewers can see the moment when DePape beats the 82-year-old Pelosi with a hammer—it also makes the gang at Fox News and beyond not only look very stupid but like the depraved ghouls they are. Will they see it that way and apologize to the victim and his family? We're going to go out on a limb and assume the answer starts with an "h" and ends with a "—ell f–king no." Are you familiar at all with how these people operate? They're about to double down, if they haven't already.
Sure enough, here is a headline from the right-wing site Gateway Pundit.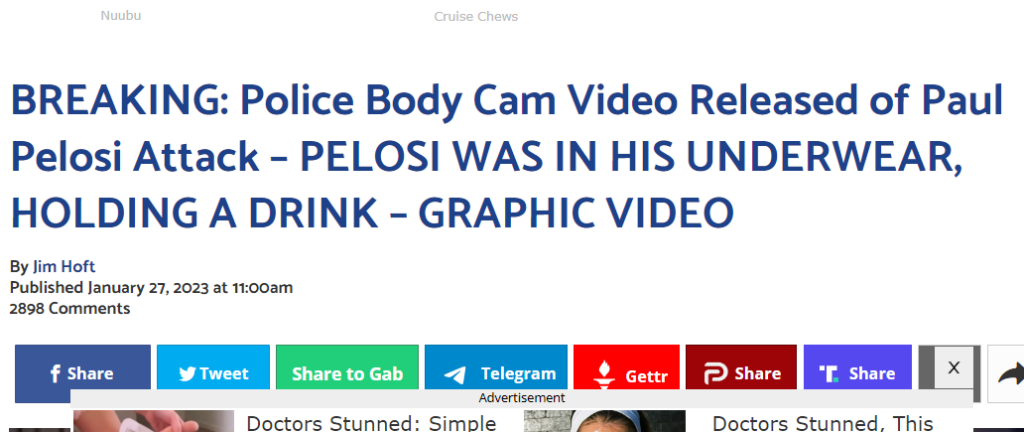 Words cannot describe my opinion of Jim Hoft.
On the plus side, there are reports the Justice Department has asked the Federal Election Commission to hold off on taking action against George Whoozits Who Goes by Santos. This is considered a clear sign that the Justice Department is preparing a criminal action against him. I hope so.