This was Trump's face while sitting in the New York courtroom today.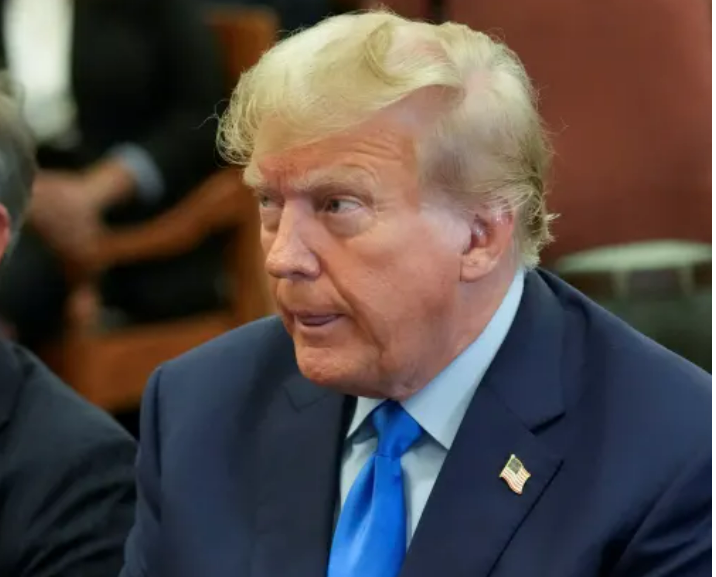 Clearly, he's about to explode. I so wish someone would have snuck up behind him and popped a balloon. And then during a break Trump found some television cameras and declared that Judge Engoron should be disbarred. "This is a judge that should be out of office," he said. "This is a judge that some people say could be charged criminally for what he's doing." Yeah, insulting the judge always helps you at trial.
I take it from this CNBC news story that Trump's lawyers will say the banks who loaned the money made a profit, so there was no fraud. We'll see how that goes.
I've been visiting my family in Brooklyn all weekend and got behind. So Congress managed to put off the shutdown until November. Matt "Son of Chucky" Gaetz immediately began a coup against Kevin McCarthy. But today Josh Marshall wrote,
There are already almost certainly fanciful threats circulating in right-wing media that Republicans will try to expel Gaetz from Congress if the long-simmering ethics investigation into his druggie, teen-dating past finds evidence of wrongdoing. This report started at Fox and got picked up in the New York Post, Daily Mail, et. al. More significant, very few of the hardliners Gaetz will need are coming to his banner. As far as I can tell only Rep. Eli Crane of Arizona has suggested he might be on board.

Don't hold your breath thinking that Republicans are going to expel Matt Gaetz. That's BS fed to pliant press. But the attack articles in the right-wing press confirms what is true, which is that a lot of Republicans are seriously pissed at Gaetz for his central role in their latest highwire debacle.
Lots of people have lots of advice about what House Democrats ought to do if McCarthy's speakership comes up for another vote. I am not one of those people. But if you have any good ideas, trot 'em out.
Margorie Taylor Greene is bragging that she, personally, took Ukraine funding out of the CR.
70% of our budget is passed in our appropriations bills, and we had a BIG win in our defense bill last week.

I was able to get all of the aid to Ukraine taken out so that we can focus on OUR military, our borders, and put America First.

A majority of the majority voted AGAINST… pic.twitter.com/N4GQcDU9Wa

— Rep. Marjorie Taylor Greene?? (@RepMTG) October 2, 2023
Max Boot at WaPo is beside himself and calling for a Ukraine funding bill be brought to the House floor immediately.  I have no idea what the chances are that will happen.
Gavin Newsom appointed Laphonza Butler, president of EMILY'S List, to fill Sen. Dianne Feinstein's Senate seat for the remainder of the term. Butler is known as being a powerhouse fundraiser who also has long-standing ties to organized labor.