We keep hearing that Ukraine is fighting bravely, and that the Russians are advancing more slowly than expected. As I write, Ukraine is still in control of Kyiv. We also keep hearing that there is precious little chance Ukraine won't be crushed eventually. I have no military experience whatsoever and have no idea how to interpret the many reports.
Germany has a long-standing policy of not allowing lethal weapons to be sent to conflict zones. But a short time ago it relented and will not oppose shipping arms from EU and NATO countries to Ukraine. Now the Netherlands is preparing to send rocket-propelled grenade launchers, and Germany is sending 1,000 anti-tank weapons and 500 Stinger missiles. The U.S. Department of State insists it is throwing assistance to Ukraine as fast as it can, although it's not clear to me how this is going. I assume the U.S. is sharing intelligence about Russian troops with Ukraine.
European countries are still debating whether to cut Russia off of the SWIFT banking system. "Blocking Russia from the system will require the agreement of all the EU's 27 members," it says here. This is a big lift, and it would cause some pain on the EU side. But the threat is real enough that it's making Russia nervous.
Ukraine is asking Turkey to block Russian access to the Black Sea. There is no indication Turkey will comply. The Moscow Times reports that Turkey is urging Russia to end the "conflict" and has offered to mediate negotiations between Ukraine and Russia.
At the same time, there are reports that Russia is also threatening Sweden and Finland with consequences if they even think of joining NATO. At this point I doubt Sweden or Finland are too worried. Well, maybe Finland.
The man of the hour is Volodymyr Zelensky, president of Ukraine. He is certainly rising to the moment. The U.S. offered to help him and his family to evacuate; Zelensky responded that he needs weapons, not a ride. But if Russians get their hands on him, they're going to kill him. I worry for him. One headline commended him for "going down with the ship."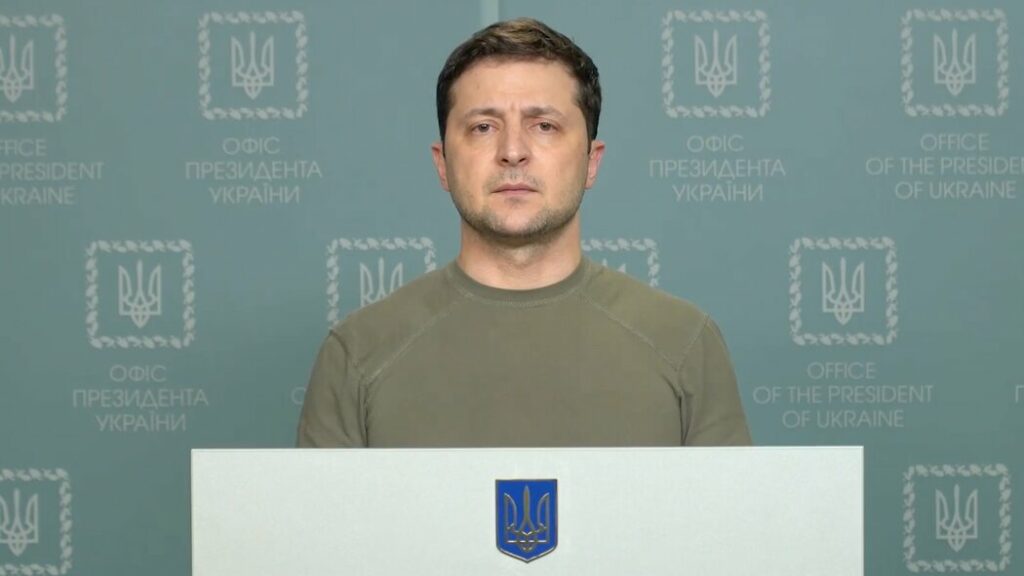 And then there's this meme: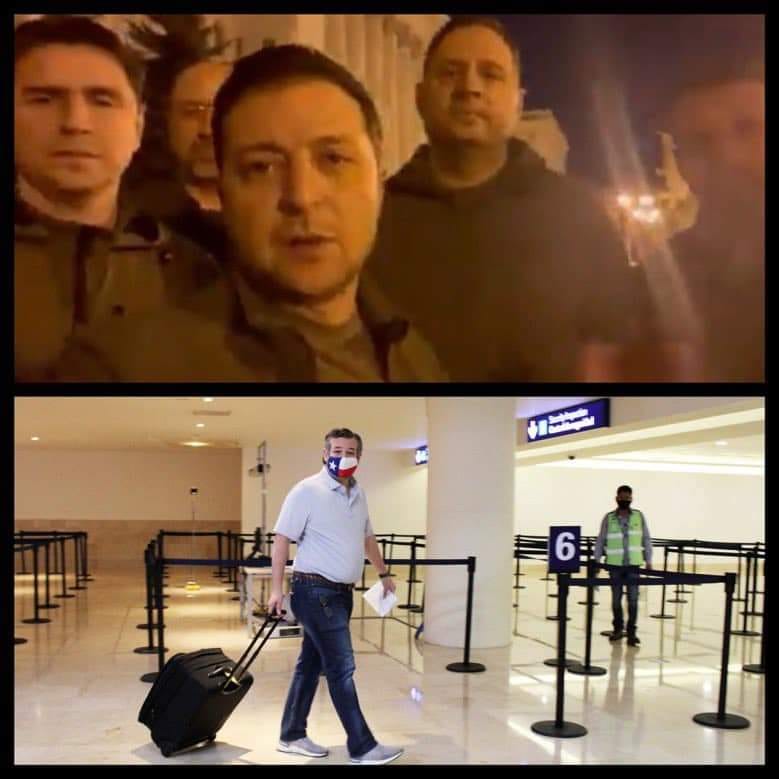 This crisis could well be one of the unforeseen events that sends U.S. politics off on a new trajectory, like September 11 or Hurricane Katrina. Although that's yet to be seen. It has already changed our ongoing political "discourse," if you want to call it that, and I think it could be changed even more. Republicans may find they'll have to rework their rhetorical strategies.
The recurring clown show known as CPAC — it's supposed to be annual, but it seems to come along about every three months — is going on in Orlando. NBC News reports that the speakers are steadfastly ignoring Ukraine.
As Moscow launched missiles at Ukraine, CPAC speakers were firing away at Canadian Prime Minister Justin Trudeau for his country's public health restrictions. The agenda had one breakout session devoted to China, but none on Russia, and China was more frequently invoked as a bigger problem for the United States.
Those speakers who did mention Ukraine blamed President Biden for whatever is happening there. I still say their divisiveness encouraged Putin. And, of course, I have no idea how Fox News is covering the crisis, if at all. And I'm not going to look.
But all the meatballs whining about how mask mandates violate their freedoms just look ridiculous now. They were ridiculous before, of course, but the contrast makes them truly absurd. And then there's Ron DeSantis:
In his 20-minute speech at the Conservative Political Action Conference, Ron DeSantis hit on everything from immigration and "mob violence" to critical race theory, the Bill of Rights and the peril of a "biomedical security state."

One thing the Florida governor — who is a U.S. Navy veteran and former member of the House Foreign Affairs Committee — did not mention on Thursday was Ukraine….

… Ukraine drew mention from some Republican politicians. Yet attendees heard more about banned books, "Marxist" leftists, Covid mandates and the fantasy that the 2020 election was rigged. 
Tucker Carlon, after weeks of signalling that the kewl kids want Vlad to sit at their lunch table, and Ukrainians are poopy heads, had to moderate a bit and admit that Putin is to blame for what is happening in Ukraine. And then he pivoted to racial slurs of Supreme Court nominee Ketanji Brown Jackson.