The New York Times has dismantled the evil Times Select firewall (yay).
It's also given Paul Krugman a blog, called "The Conscience of a Liberal." Here's the first post. It begins:
"I was born in 1953. Like the rest of my generation, I took the America I grew up in for granted — in fact, like many in my generation I railed against the very real injustices of our society, marched against the bombing of Cambodia, went door to door for liberal candidates. It's only in retrospect that the political and economic environment of my youth stands revealed as a paradise lost, an exceptional episode in our nation's history."

That's the opening paragraph of my new book, The Conscience of a Liberal. It's a book about what has happened to the America I grew up in and why, a story that I argue revolves around the politics and economics of inequality.
He provides a thumbnail review of the past ninety or so years of the U.S. economy, divided into four periods, as shown on this chart: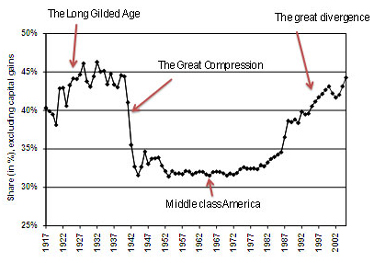 Krugman says,
The chart shows the share of the richest 10 percent of the American population in total income — an indicator that closely tracks many other measures of economic inequality — over the past 90 years, as estimated by the economists Thomas Piketty and Emmanuel Saez. I've added labels indicating four key periods.
The four periods are the Long Gilded Age (which ended ca. 1937), the Great Compression (ca. 1937 to mid-1940s), Middle Class America (mid-1940s to late 1970s), and the Great Divergence (late 1970s to now).
I'll get back to the Great Compression, but this is what Krugman says about the last couple of periods:
Middle class America: That's the country I grew up in. It was a society without extremes of wealth or poverty, a society of broadly shared prosperity, partly because strong unions, a high minimum wage, and a progressive tax system helped limit inequality. It was also a society in which political bipartisanship meant something: in spite of all the turmoil of Vietnam and the civil rights movement, in spite of the sinister machinations of Nixon and his henchmen, it was an era in which Democrats and Republicans agreed on basic values and could cooperate across party lines.

The great divergence: Since the late 1970s the America I knew has unraveled. We're no longer a middle-class society, in which the benefits of economic growth are widely shared: between 1979 and 2005 the real income of the median household rose only 13 percent, but the income of the richest 0.1% of Americans rose 296 percent.
Certainly, the Middle Class America period wasn't perfect, especially since racial minorities were kept locked out. But if you're as old as Krugman and I — I've got a couple of years on him, actually — you know that the American middle class ain't what it used to be. Not even close. Relative share of wealth and, IMO, quality of life have declined in many ways. I see a whopping large chunk of American citizens struggling more and more frantically to maintain what they were brought up to think is a "normal" lifestyle.
But our ideas of "normal" came out of a period that Krugman calls "a paradise lost, an exceptional episode in our nation's history."
I'm going to skip Krugman for a moment and go to a Harold Meyerson column from last year (August 30, 2006).
Labor Day is almost upon us, and like some of my fellow graybeards, I can, if I concentrate, actually remember what it was that this holiday once celebrated. Something about America being the land of broadly shared prosperity. Something about America being the first nation in human history that had a middle-class majority, where parents had every reason to think their children would fare even better than they had….

…From 1947 through 1973, American productivity rose by a whopping 104 percent, and median family income rose by the very same 104 percent. More Americans bought homes and new cars and sent their kids to college than ever before. In ways more difficult to quantify, the mass prosperity fostered a generosity of spirit: The civil rights revolution and the Marshall Plan both emanated from an America in which most people were imbued with a sense of economic security.

That America is as dead as the dodo. Ours is the age of the Great Upward Redistribution. The median hourly wage for Americans has declined by 2 percent since 2003, though productivity has been rising handsomely. Last year, according to figures released just yesterday by the Census Bureau, wages for men declined by 1.8 percent and for women by 1.3 percent.
The increase of two-income families masked the inequality for a while; people with two incomes were able to maintain the same level of "normal" that one wage earner provided in earlier times. But now the two wager-earners are working longer hours, skipping vacations, and living from paycheck to paycheck. They are clinging to Middle Class-ness by their fingertips.
Back to Meyerson:
According to a report by Goldman Sachs economists, "the most important contributor to higher profit margins over the past five years has been a decline in labor's share of national income."…

…For those who profit from this redistribution, there's something comforting in being able to attribute this shift to the vast, impersonal forces of globalization. The stagnant incomes of most Americans can be depicted as the inevitable outcome of events over which we have no control, like the shifting of tectonic plates.

Problem is, the declining power of the American workforce antedates the integration of China and India into the global labor pool by several decades. Since 1973 productivity gains have outpaced median family income by 3 to 1. Clearly, the war of American employers on unions, which began around that time, is also substantially responsible for the decoupling of increased corporate revenue from employees' paychecks.

But finger a corporation for exploiting its workers and you're trafficking in class warfare. Of late a number of my fellow pundits have charged that Democratic politicians concerned about the further expansion of Wal-Mart are simply pandering to unions. Wal-Mart offers low prices and jobs to economically depressed communities, they argue. What's wrong with that?

Were that all that Wal-Mart did, of course, the answer would be "nothing." But as business writer Barry Lynn demonstrated in a brilliant essay in the July issue of Harper's, Wal-Mart also exploits its position as the biggest retailer in human history — 20 percent of all retail transactions in the United States take place at Wal-Marts, Lynn wrote — to drive down wages and benefits all across the economy. The living standards of supermarket workers have been diminished in the process, but Wal-Mart's reach extends into manufacturing and shipping as well. Thousands of workers have been let go at Kraft, Lynn shows, due to the economies that Wal-Mart forced on the company. Of Wal-Mart's 10 top suppliers in 1994, four have filed bankruptcies.

For the bottom 90 percent of the American workforce, work just doesn't pay, or provide security, as it used to.

Devaluing labor is the very essence of our economy.
Krugman:
On the political side, you might have expected rising inequality to produce a populist backlash. Instead, however, the era of rising inequality has also been the era of "movement conservatism," the term both supporters and opponents use for the highly cohesive set of interlocking institutions that brought Ronald Reagan and Newt Gingrich to power, and reached its culmination, taking control of all three branches of the federal government, under George W. Bush. (Yes, Virginia, there is a vast right-wing conspiracy.)

Because of movement conservative political dominance, taxes on the rich have fallen, and the holes in the safety net have gotten bigger, even as inequality has soared. And the rise of movement conservatism is also at the heart of the bitter partisanship that characterizes politics today.
I have a lot of thoughts as to why this happened, but those will have to wait for another post. For now I'll just say that you probably have to be a geezer like me or Krugman to appreciate the difference between Then and Now. The Fall of the Middle Class happened gradually enough that it took some time before we realized that steadily increasing prosperity had been replaced by ceaseless struggling just to keep from sliding further. If the change from, say, the economy of 1967 to the economy of 2007 had happened over a five-year period there would have been rioting in the streets.
On the other hand, if your earliest memories are from after the 1960s, you might not see the difference. Righties — and I still say they are disproportionately Gen X-ers — get a little boost in their stock portfolios and think life is fine, but they're not seeing the big picture.
In some ways, the conversation over whether inequality is being driven by impersonal, technical forces or government policy is neither here nor there (at least on a policy level — politically, people use it to justify inequality as something organic, inevitable, and even beautiful — like the tides). We live in a regulated economy governed by both public and private institutions, so there's no such thing as "natural" forces. Even if superstar CEOs are taking home billions, they're still reliant on our system of contracts, and limited liability, and stock market regulation. In other words, what public policy giveth, public policy can taketh away. Few doubt that we have the tools — using something called "the tax code" — to engage in some redistribution. The question is whether we have the will.
I don't think the tax code is the only tool we have, but it's a start.
Very briefly I want to go back to the Great Compression. It's interesting to me that the Compression began abruptly about seven or eight years into the Great Depression, which seems to me is an argument that the Great Depression was not a cause of the Compression, as this blogger argues. No doubt myriad factors were involved, and if I had more time today I'd go back to see exactly what New Deal policies were in place by 1936 or so that might have helped the Compression along. Yes, the industrial buildup during World War II was a huge factor, but that was instigated and overseen by the federal government during the FDR Administration.