Via AllSpinZone ('cause I hardly ever read Maureen Dowd any more), today MoDo got to the roots of what's motivating the tea partiers (emphasis added):
Surrounded by middle-aged white guys — a sepia snapshot of the days when such pols ran Washington like their own men's club — Joe Wilson yelled "You lie!" at a president who didn't.

But, fair or not, what I heard was an unspoken word in the air: You lie, boy!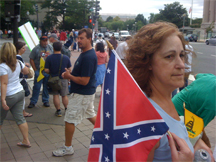 Yesterday70,000 or so right-wingers "demonstrated" in Washington. If you believe their handlers, a segment of people who looked on complacently for eight years while the Bush Administration plundered the treasury suddenly are outraged about government spending. Some of them seemed to have other concerns, however.
Did any of yesterday's protesters carry signs that had some connection to actual issues — "No Public Option" or "Ixnay on Exchanges" or something? Or was the entire exercise about the hobgoblins who live in their heads?
Like Dowd, I don't forget that "Democratic presidents typically have provoked a frothing response from paranoids." But as much as they hated Bill Clinton, the degree of frothing does seem to have been kicked up a notch.