I learned from R.S. McCain — blogging from an undisclosed location, I assume — that there will be a court hearing Tuesday regarding a peace order requested by Brett Kimberlin (background) against one of the rightie bloggers he allegedly has been terrorizing. I take it a "peace order" is something like a restraining order.
The part of McCain's post that jumped out at me was the claim that Kimberlin's alleged attempts at terrorism were intended "to suppress the truth about his violent criminal past." This is the same criminal past prominently discussed in a 2007 Time magazine article.
In the belly of the voting-reform movement is a man who personifies this paradoxical lack of credibility in the service of a credible cause. Brett Kimberlin was convicted in 1981 of a series of bombings in Indiana. By his own account, he dealt "many, many tons" of marijuana in the 1970s. Most famously, he is the man who from his prison cell alleged that as a law student Dan Quayle bought marijuana from him. Quayle repeatedly denied the charge, and it was never substantiated. In e-mails and Web postings from Kimberlin's two organizations, Justice Through Music and Velvet Revolution, he intersperses occasionally useful pieces of information about the problems of e-voting with a hefty portion of bunk, repeatedly asserting as fact things that are not true. Kimberlin, in short, is an unlikely candidate to affect an important issue of public policy.
So the criminal record wasn't exactly hidden.
Time goes on to say that Kimberlin had been instrumental in the movement to stop Diebold electronic voting machines from being used in elections, and that Brad Friedman (of BradBlog) and Kimberlin had co-founded a "netroots voting-reform website VelvetRevolution.us."
Kimberlin may very well be as unhinged and dangerous as the righties are making him out to be. Or not. I don't know the man at all. I haven't seen anyone on the left blogosphere speak up for him, including Brad Friedman. This suggests that either he isn't that well known in blogging circles (again, I don't recall I'd ever heard of him) or that those who know him think he may be guilty as accused.
However, I noticed that commenters have been calling out Friedman's alleged ties to Kimberlin for several years. For example, this is from 2008:
Search engine for Brett Kimberlin. Why no story on him, Brad? You don't want your readers to know you are partners with a bomber and admitted drug dealer? He even had his own little tinfoil 15 minutes of fame when he said he used to deal pot to Dan Quayle.
This all suggests to me there was nothing hidden about Kimberlin's criminal record. After Kimberlin was paroled in 1994 and until the current accusations against him there's no indication I could find that he was doing anything illegal, which begs the question why it was so all-fired important to stir up hysteria about Kimberlin in 2012.
And the answer is that he got involved in leftie political movements and organizations, which means he can be connected by association to all kinds of people on the Left who hadn't done anything wrong.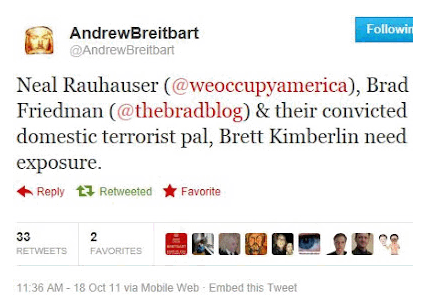 Essentially Breitbart et al. were waging a defamation campaign against anyone who could be tied to Kimberlin, directly or indirectly, through any leftie organization he was associated with. This is right out of Joe McCarthy's old playbook and a blatantly unethical thing to do. It doesn't justify violent retribution, but it certainly isn't blameless.
Two other names that keep coming up in the word-salad ravings are Ron Brynaert and Neal Rauhauser. Google their names and you get page after page of right-wing blog posts accusing these two of terrorism and attempted murder (example). Otherwise, I have no idea who these guys are and what the evidence is against them. [Update: It appears that last November Rauhauser was promoting the Occupy movement.] They may indeed be very dangerous guys, or they may have done nothing more than speak up for Kimberlin. It's a mystery to me.
But this all begs the question why these alleged terrorists' victims are not the ones seeking restraining orders against Kimberlin et al. instead of the other way around, and why the criminal justice system isn't being otherwise called upon to investigate and prosecute the alleged perpetrators and protect the allegedly innocent. Lynch mobs, even virtual ones, make me queasy.