In all my years of being a voter I don't think I've ever felt so alienated from the Democratic Party as I do now. In some ways, this year has been worse than 2008.
It has struck me for some time that the Clinton and Sanders supporters are not only disagreeing; we're speaking different languages. We're approaching the campaign with entirely different sets of assumptions and values. For this reason, it has been impossible to communicate with each other.
And, frankly, I don't think this is some temporary blow-up that will be soothed over by Fall, for next year, or ever.
I already tried to explain some of this rift through Moral Foundation Theory ("The Clinton-Sanders Divide and Moral Foundation Theory") without realizing that real social science types had done a more researched analysis already. See "The Moral Foundations of the Presidential Primaries." There's also a somewhat dumbed-down version of this with less detail at Vox.
If you don't remember Moral Foundation Theory, it basically is an analysis of the moral values and assumptions we carry around in our subconscious that causes us to make the political and moral judgments that we make. If you want to understand how Sanders and Clinton supporters differ, see this chart: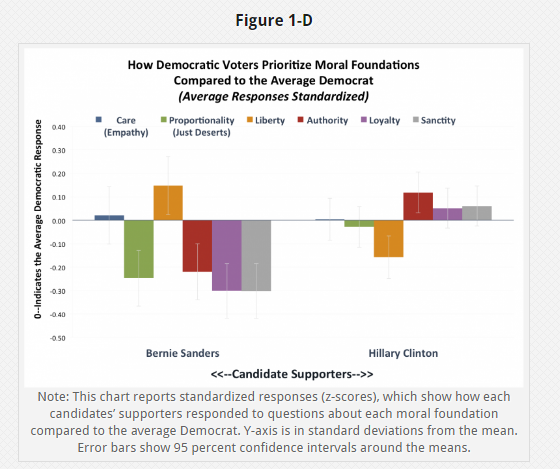 The colored bars that show positive or negative values represent six moral foundations, and you can see a stark difference between the two groups. An explanation of the colored bars, left to right:
Blue: Care/Harm — Being kind, nurturing and protective of other people.
Green: Fairness/Cheating, or Proportionality/"just deserts" — Treating people in proportion to their actions. The authors of the study say that in this case, "Sanders supporters also stands apart from Clinton's supporters (and libertarians), in rating proportionality much less relevant to their moral judgments. This aligns with Sanders' proposing greater expansions of government social welfare programs and higher taxes on the wealthy in comparison to Clinton."
Orange: Liberty/Oppression — Individual liberty and protection from tyranny.
Red: Loyalty/Betrayal — Being patriotic and loyal to one's group, family and nation.
Purple: Authority/Subversion — Respecting leadership, tradition and authority.
Gray: Sanctity/Degradation — Living in an elevated way and avoiding disgusting things, foods and actions; placing a high value on "traditional" sexual mores, for example.
In most Moral Foundations texts I've read, these six values also measure liberalism/conservatism, as shown on this graph: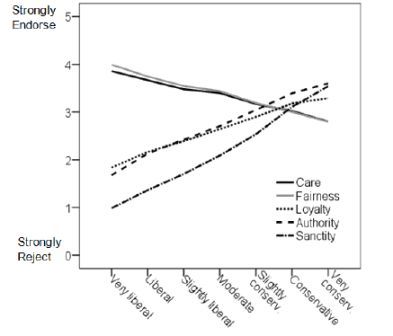 The graph leaves out the "liberty" value for some reason, but you get the picture — liberals and conservatives value different things. And Clinton supporters appear to be more conservative, as a group, than Sanders supporters.
In particular the difference shown in the red, purple and gray bars has been really evident. Clinton supporters place much higher value on loyalty to the Democratic Party and to their candidate than Sanders supporters. I keep hearing Clinton supporters say of Sanders  "He's not a real Democrat," as if this was a trump card; but to Sanders supporters this is meaningless. Recently Clinton supporters have been shocked because Sanders has not been immediately forthcoming with an endorsement of Clinton, never mind that the primaries aren't over. Clinton supporters also score much higher in authoritarianism and "sanctity" than Sanders supporters (although not nearly as high as most Republicans).
Reaction to this video reveals a lot. It's like a Rorschach test. Sanders supporters (like me) basically heard Clinton brush us off as inconsequential maggots unworthy of her consideration. Clinton supporters were furious that Sanders is not jumping through the usual party loyalty hoops. But, as I've explained elsewhere, even if he did endorse Clinton that's no guarantee his supporters would transfer their support to her. See above about authoritarianism; Sanders supporters aren't wired that way.
And somewhere in here we might find the answer to the mystery of why African American voters so heavily favored Hillary Clinton, which makes absolutely no sense to me given her record. I've yet to hear an explanation that made sense, other than that black voters don't think Sanders is electable. My hypothesis is that African Americans on the whole score more conservatively on the Moral Foundations scale, which would make them predisposed to favor Clinton, but I don't know that for a fact.
But here is another chart to consider: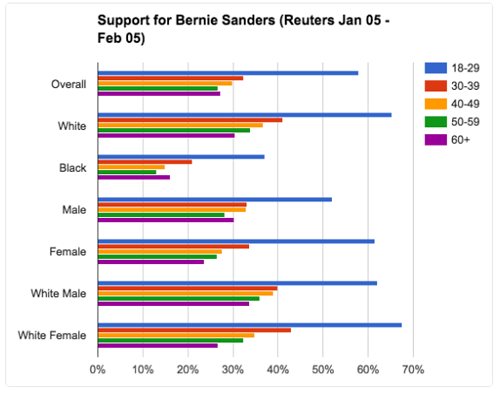 I picked this up from "Bernie Sanders Is (Still) the Future of the Democratic Party" by Matt Yglesias. The Clinton campaign has been trying — fairly successfully — to frame the Democratic contest as between white men and everybody else. But that's a plain lie. It's between younger voters and older voters. This data is from February; I understand that in the more recent primaries Sanders's numbers have improved among young nonwhite voters to be at about the 50 percent mark.
And I say Democrats ignore this at their peril.
Much of Sanders's support grew out of a long-simmering frustration with the Democratic Party itself. But a lot of us old folks stuck with it, because we remember what it used to be. (See "Why the Democratic Party Is in Bigger Trouble Than It Realizes.") But the young folks don't remember JFK or even Jimmy Carter. They are frustrated that neither party represents their point of view.
Quoting Matt Yglesias,
Hillary Clinton's campaign — and, frankly, many DC journalists — has been repeatedly taken by surprise by the potency of some of Sanders's attacks, because they apply to such a broad swath of the party. But this is precisely the point. Sanders and his youthful supporters want the Democrats to be a different kind of party: a more ideological, more left-wing one.

As Clinton put it in the most recent debate, "Under [Sanders's] definition, President Obama is not progressive because he took donations from Wall Street; Vice President Biden is not progressive because he supported Keystone [the pipeline]; Sen. Shaheen is not progressive because she supports the trade pact. Even the late, great Sen. Paul Wellstone would not fit this definition because he voted for DOMA."

To Clinton, Democrats are the party of progressives, and so stuff that Democrats routinely do is, by definition, compatible with being progressive.

But though Democrats are certainly the more left-wing of the two parties — the party of labor unions and environment groups and feminist organizations and the civil rights movement — they're not an ideologically left-wing party in the same way that Republicans are an ideological conservative one. Instead, they behave more like a centrist, interest group brokerage party that seeks to mediate between the claims and concerns of left-wing activists groups and those of important members of the business community — especially industries like finance, Hollywood, and tech that are based in liberal coastal states and whose executives generally espouse a progressive outlook on cultural change.

Sanders's core proposition, separate from the details of the political revolution, is that for progressives to win they need to first organize and dominate an ideologically left-wing political party that is counterpoised to the ideological right-wing Republican Party.
It's gotten so that when we use the words liberal and progressive we don't mean the same things by them.  As Yglesias says, the more conservative Clinton supporters consider themselves to be "liberal" because they are Democrats, as if "Democrat" and "liberal" were synonyms, even though they might score as centrist or conservative on the Moral Foundation measure. In their minds, electing Hillary Clinton would be "revolutionary" and "progressive" because she's a woman, never mind that she's the insider's insider and the Queen of the establishment.  To them, because they are liberal on social issues they are completely progressive, even if they are utterly unconcerned about income and wealth inequality and wouldn't know Thomas Piketty from Tyler Perry.
Jeffrey Feldman thinks that the biggest cause of the Great Schism is class consciousness. I'm not sure it was really the healthcare debate that created this shift, but here is what he says:
…

some version of economic class consciousness began sweeping through the Democratic Party in that debate on healthcare. That debate from 2009 focused people on the idea that policy was controlled by an elite class that has emerged in the neoliberal global economy. In prior class consciousness debates, this elite class might just have been called "capitalists," but in the post-2009 version, it has become associated with something called the "Davos crowd" or just "Davos," meaning: the group of powerful, wealthy, jet-setters who attend the Swiss economic summit and others like it, who believe in the free market ideology of globalized neoliberalism, and who are able to command virtually unlimited resources.


These figures exist in both parties. The healthcare debate, however, led many in the Democratic Party to rethink the basic dualism of the American political landscape. It was in that 2009 healthcare debate that many Democrats began to see themselves as engaged in a battle more urgent than the thousand year struggle against Republicans: a battle against the Davos crowd for control of "our" party.
…

What happened in this Presidential primary between Sanders and Clinton is that the dynamic of the single issue debate–which led to new awareness of intra-party struggle in 2009–was elevated to a much broader debate by refocusing on the financial sector as a whole.

Now, more and more people underwent the same transformation because the arguments about the control of big finance over politics and government seemed clearer or more convincing. This was coupled with the clearest contrast to date of this kind of problem being described since 2009: a top tier candidate who went from having Middle Class wealth to having money on part with the Davis crowd almost entirely by accumulating honoraria from the Davos crowd. And this clear example gave Sanders a unique power in the Democratic Party: his explaining the problem in the Party–which journalists had been pointing out–suddenly had the power to reach a vast audience via an ongoing national campaign–and to turn him into a transformative figure.
In my experience, this issue with global corporatism or predatory capitalism or the "Davos crowd" or whatever you want to call it is not on the radar of most Clinton supporters at all. I never see them address it. They're stuck in thinking about technocratic answers to particular problems, not about any sort of sweeping change to the status quo.  They're in love with the word "pragmatism," which in effect means ignoring the big problems while focusing on tweaking the little ones. And, unfortunately, a lot of the Sanders supporters on social media do not articulate this well beyond calling Clinton names like "corporate whore," which really isn't that accurate. So there's no real exchange of concerns, just name-calling.
A lot of what's happening in this primary season is the result of the abandonment by both parties of working-class Americans. Even more than that, it's the abandonment by both parties of youth. All the meanness and greed and tight-fistedness and corporate-centric values are hitting them hardest of all. In today's America, young people are a resource to be exploited, not invested in. And among the student loans, unpaid internships, disappearance of blue-collar jobs, on-demand and other insecure and exploitative employment, they are feeling the effects of global corporatism/predatory capitalism more intensely than us old folks.
And, rightly, they're getting pissed. Sanders gets them. Clinton doesn't. They know that all they're going to get from her is tweaks and platitudes, and it terrifies them.
And they are pissed.
Unfortunately, you can get cats to march in formation before you can get young liberals focused on any kind of directed, disciplined long game.  Right now they're all over social media planning a third-party run for Sanders (often with the People's Front of Judea Green Party), which would be stupid on several levels, and which I am confident he will not do. The way forward is in taking over the Dem party at all levels, replacing the neoliberals and centrists with actual progressives. It will take a few election cycles (I keep making this speech every few years), but it's do-able if people can work together to do it.
Otherwise, we may be looking at the Democratic Party's last hoorah. I hate to think what rough beast might take its place.