Perhaps the most startling thing about President Biden's speech last night is that it inspired Chris Cillizza to say something pretty much true:
In the course of his address Wednesday night to a joint session of Congress, President Joe Biden said more than 6,000 words. But,11 in particular — all part of a single sentence uttered toward the end of the speech, were the most important.

There are those words: "My fellow Americans, trickle-down, trickle-down economics has never worked."

With that simple sentence, Biden sought to officially close the book on the dominant economic theory of the last 40ish years: That success by affluent people at the top of the economy would, eventually, trickle down to the average American. It's been the theory behind every major tax cut pushed by Republican presidents since Ronald Reagan — including Donald Trump's 2017 cut — and is so closely associated with our 40th president that the economic idea is known colloquially as "Reaganomics."
And, to be honest, I'm a tad gobsmacked that that's pretty much true. Joe Biden is, at long last, the president who stood up to Ronald Reagan and said no. No more trickle down, and no more "government is the problem" crap. Joe offered government as the solution, and his solution is to build back the nation not by going through corporations and billionaires but by directly putting working people to work doing it. Barack Obama almost went there but got wobbly. Joe Biden has declared he's ready to do it.
David Sander writes in the New York Times,
It will take years to know whether Mr. Biden's initiative will have the lasting power of the New Deal or the Great Society, or whether it can "change the paradigm," as he argued a few weeks ago.

Yet it is already clear it is based on the gamble that the country is ready to dispense with one of the main tenets of the Reagan revolution, and show that for some tasks the government can jump-start the economy more efficiently than market forces. Mr. Biden has also made a bet that the trauma of the coronavirus pandemic and the social and racial inequities it underscored have changed the political center of gravity for the nation.
I think the political center of gravity could have changed a long time ago if the Democrats had displayed more vision and leadership instead of remaining stuck in Clinton-era "third way" triangulation crap.
Reuters reports that people agree with Joe: trickle down has failed.
A majority of Americans support measures favored by President Joe Biden to substantially redistribute U.S. wealth, according to an Ipsos poll for Reuters released on Thursday, including tax hikes on the wealthy and a higher minimum wage.

The national opinion poll also found that Republican voters were divided over the "trickle-down economics" championed by their party's leaders since President Ronald Reagan some 40 years ago.
Get that? Republican voters are divided over trickle-down economics. Not-Republican voters have believed it to be a crock for some time.
Even so, last night's speech was just the opening volley. The war has yet to be waged. Paul Waldman:
… don't count Reaganomics out. The wealthy who benefit from it, and the Republican Party that still believes in it with every fiber of its being, will never abandon it, no matter how much they might be on their heels right now. It's an indefatigable zombie, and it'll be back.
Miz Lindsey has hustled forth to declare Biden's proposals "socialism," because that's what Republicans do these days. But watch out, Miz Lindsey; viewers really liked the speech. CNN says 73 percent said they believe Biden's proposals would lead the country in the right direction. A CBS poll said 85 percent of viewers approved of the speech.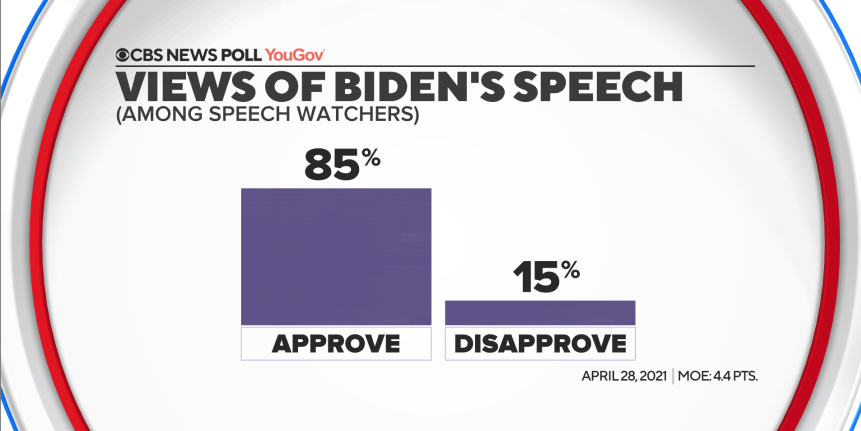 Of course, people who didn't watch the speech, which I assume is most Americans, will believe what they are told about it.
I confess I didn't watch much of the Republican rebuttal. I listened to a little bit of it, and then hit the mute button. I am tired of politicians who do nothing but mouth slogans divorced from reality, and that's what he was doing. Life is just too damn short.
Going forward, of course, a lot will depend on how much of the agenda is enacted. And that depends a lot on Joe Manchin, unless one Republican senator can be persuaded to support it. There are "secret talks" going on between the White House and Republican senators, Axios reports, I am not optimistic about this.