Turns out Trump's foreign policy was for sale to the highest bidder. And it wasn't just the Trumps cashing in.
See also Juan Cole and Heather Cox Richardson. Juan Cole wrote,
Donald Trump as president dumped the Paris Climate Accord, withdrew from the 2015 Iranian nuclear deal, endorsed the 2017 blockade of Qatar by Saudi Arabia and the United Arab Emirates, and pushed for declaring the Muslim Brotherhood a terrorist organization. The Brotherhood had been part of the 2011 uprisings against Arab dictators, leading Arab monarchies to see them as subversives and dangerous to the status quo.

All of these steps were on a wish list of the United Arab Emirates, the fabulously wealthy Gulf oil state, with its capital at Abu Dhabi.
And Heather Cox Richardson wrote,
According to today's charges, once Trump was in office, Barrack continued to lobby for the UAE until April 2018. He allegedly worked with allies in the UAE to draft passages of Trump's speeches, hone press materials, and prepare talking points to promote UAE interests. Without ever registering as a foreign agent, he worked to change U.S. foreign policy and appoint administration officials to meet a "wish list" produced by UAE officials.

Barrack helped to tie the Trump administration to Saudi Arabia and the UAE, turning the US away from Qatar, an ally that hosts US air bases (although they are now being closed as bases and in the process of becoming housing for our Afghan allies before their US visas come through). From the beginning, the administration worked closely with Abu Dhabi Crown Prince Mohammed bin Zayed, who controls $1.3 trillion in sovereign wealth funds and essentially rules the UAE, and with Saudi Crown Prince Mohammed bin Salman (MBS), whom Prince Mohammed championed.

In May 2017, Trump advisers Jared Kushner and Steve Bannon, along with Saudi and UAE leaders, met without the knowledge of then–Secretary of State Rex Tillerson to talk about blockading Qatar. When Saudi Arabia, the UAE, Bahrain, and Egypt launched a blockade on June 5, 2017, Trump cheered them on, although the State Department took a neutral stand and the Pentagon thanked Qatar for hosting US troops.
Trump's first foreign visit as president was to Saudi Arabia, remember, which gave us the famous glowing orb moment: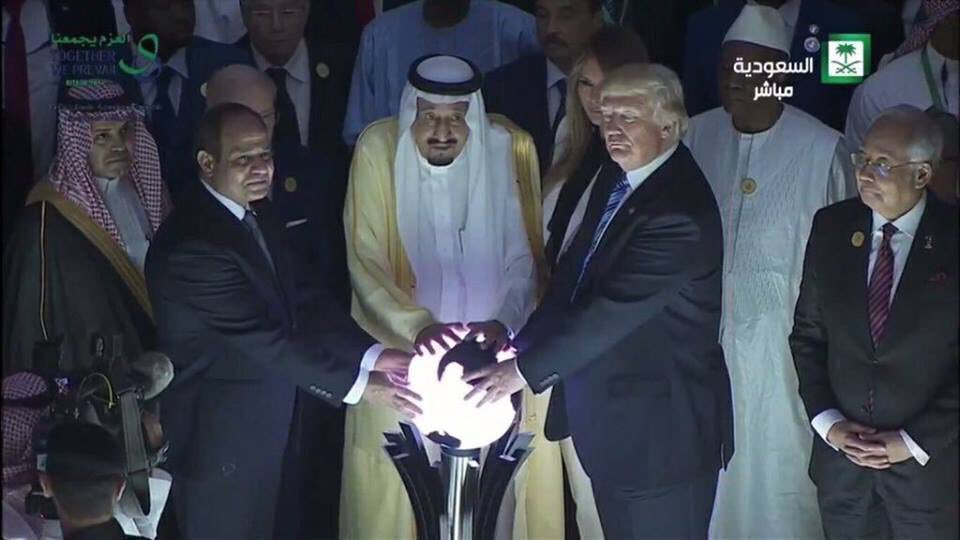 Tom Barrack  also was instrumental in bringing Paul Manafort and Rick Gates into the Trump campaign, which introduced the Russian connection as well. See also What Really Happened to the Inaguration Money? and The Trump Inauguration: Grifters Gonna Grift.
There are allegations floating around that Barrack took in about  $1.5 billion from the UAE and the Saudis. When Trump finds out someone other than him was making money on his admnistration, he'll blow a fuse.